One of the perks of working for Ben & Jerry's, the gourmet ice cream company with corporate headquarters in Vermont, is the three free pints of ice cream, frozen yogurt, or sherbet that employees may take each day. But for some Ben & Jerry staffers, an even bigger perk is being allowed to bring their dog to the office.
At the Build-A-Bear Workshop offices, permission to bring dogs to work is one of the reasons the plush toy firm has been named one of Fortune's 100 Best Companies to Work For. Amazon allows people to bring canine buddies to their jobs, too, if the dogs are up to date on their vaccinations and kept behind a baby gate or in an office with a closed door. Google is yet another dog-friendly company, as long as people clean up after their dogs and are mindful of co-workers with allergies to dog dander.
The list of dog-accepting companies keeps growing, turning the phrase "working like a dog" on its ear. Truth be told, as far back as 2006 a survey run by the American Pet Product Manufacturers Association reported that nearly one in five American companies were allowing pets to hang out with their human guardians at the workplace. It certainly sounds like a nice idea, especially if you're a dog lover, but does it make any sense? After all, couldn't the presence of dogs distract people from the business at hand, proving a drag on the bottom line?
Quite the contrary. One study out of Central Michigan University has found that dogs in the workplace can lead to more trust between co-workers, which in turn leads to more collaboration among team members working on a project together. Another piece of research, conducted by Virginia Commonwealth University professor of management Randolph Barker, PhD, found that when a company allows dogs on site, levels of cortisol in their human guardians decrease, indicating a decrease in stress. That's key. Stress is a significant contributor to employee absenteeism, a decline in morale, and burnout, which together add up to losses in productivity.
Dr. Barker and his wife, Virginia Commonwealth University School of Medicine professor of psychiatry Sandra Barker, PhD, conducted the research with colleagues at Replacements, a china company that sells discontinued china and crystal to make sets with broken pieces whole again (the last place you might think of as dog-friendly). Specifically, the investigators compared three types of employees of the company: those who brought their dogs to work,those who didn't bring their dogs,and those who didn't have dogs. Over the course of a week, participants completed surveys and contributed saliva samples — necessary for quantifying their stress in measurable numbers.
In the morning, the investigators did not find any differences in stress hormone levels among the three groups. But as the workday wore on, average stress level scores fell about 11 percent among workers who had brought their dogs to the office, while increasing 70 percent for those who did not — a big difference. Not surprisingly, workers accompanied by their dogs reported actually feeling a decline in stress with their pets around. Conversely, on days that owners left their dogs home, their stress levels shot up.
The results, reported in the International Journal of Workplace Health Management, are preliminary, but nonetheless support the notion that dogs at the workplace not only decrease stress but also increase job satisfaction and commitment and yes, the bottom line. This appears to be true even for those people who don't have dogs. At Replacements, employees without a dog were observed asking their dog-accompanied co-workers if they could take their colleagues' dogs outside when they had a break. That allowed positive exchanges between workers that could only have helped the way they negotiated and worked with each other to complete various tasks. The extra exercise afforded people who might not have otherwise gone out during break didn't hurt, either. Moving around and getting a little fresh air is a stress reliever of its own.
The results jibe perfectly with research collected by the Centers for Disease Control and Prevention, which cites dozens of animal researchers who report that pets can increase opportunities for exercise and socialization.
Of course, being allowed to bring a dog to work cuts down on many owners worrying about their dog being stuck in the house and not being able to go to the bathroom for up to 10 hours, along with worrying simply that their dog will get lonely spending so much time solo. For those who might hire a dog walker to come in the middle of the day at a price that can easily reach $15 per half hour, being allowed to take a pet to work can also save along the lines of $75 a week.
All of which doesn't even begin to get at what taking a pet to work does for the dog. Dogs are smart. They get bored. They get sad. They can't watch a few hours of programs that they TiVo'd the night before to while away the hours, or talk on the phone, or take themselves out for coffee or meet other dogs to go over pee-mail. They're simply stuck waiting. The excitement of a peanut butter-filled Kong lasts only so long.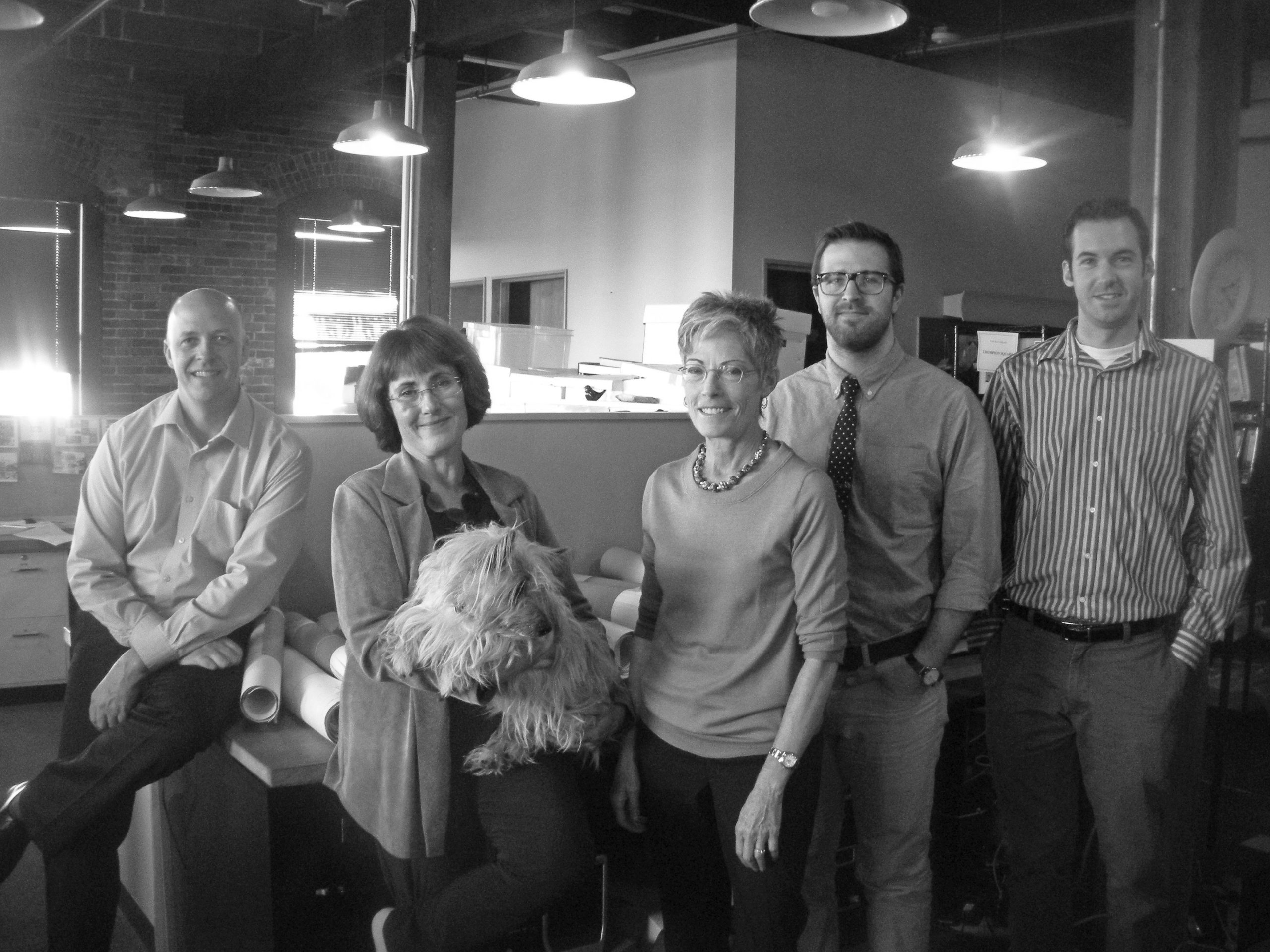 Lynne Spencer, principal of the Spencer & Vogt Architecture Preservation firm in Boston, knows firsthand all the benefits of bringing your dog to the workplace. Whether spending the day in her brick-walled office or driving around from site to site, her 11-year-old cairn terrier, Maisie, is usually right there with her. "My parking space is about 10 minutes from the office," Ms. Spencer says, "so she gets a nice little romp even before we reach the door. Once inside, she pelts around greeting everyone, and depending on who's here, there's a game of ball. She's also very attentive during lunch and often takes care of clean-up.
"I also take her to different sites with me, where she charms and disarms clients, although if there's heavy construction going on, she remains in the car. She has not been fitted for a hard hat.
"When clients visit the office, Maisie sits in on meetings in the conference room. I think it helps bring goodwill to the discussions. When you see a nice little dog feeling comfortable, you might relax more, too."
Indeed, says Mr. Spencer, "with Maisie's adorable nature and a personality and temperament so affable and eager to please, she has no doubt helped reel in new business. Having her with me is a win all ways around."