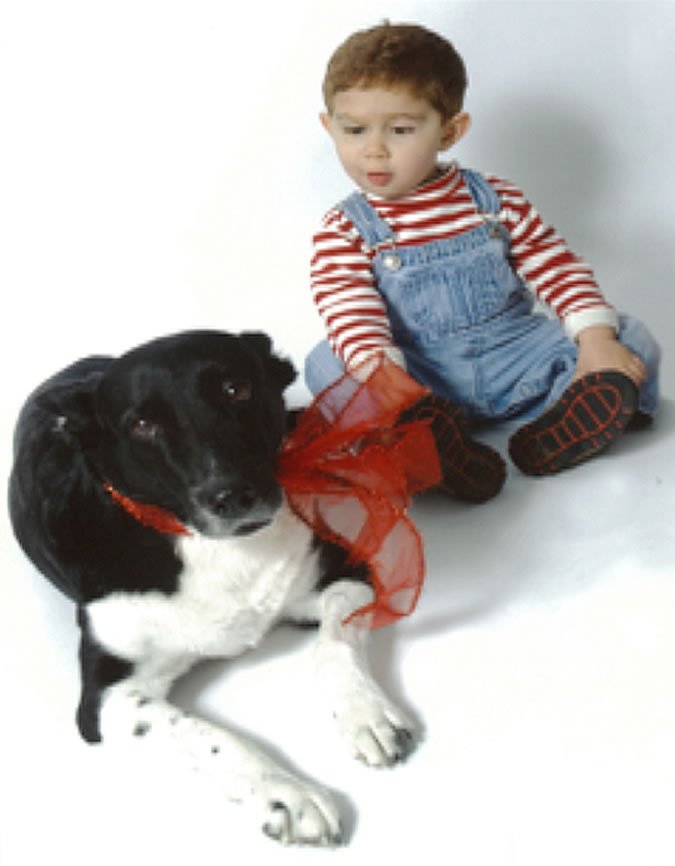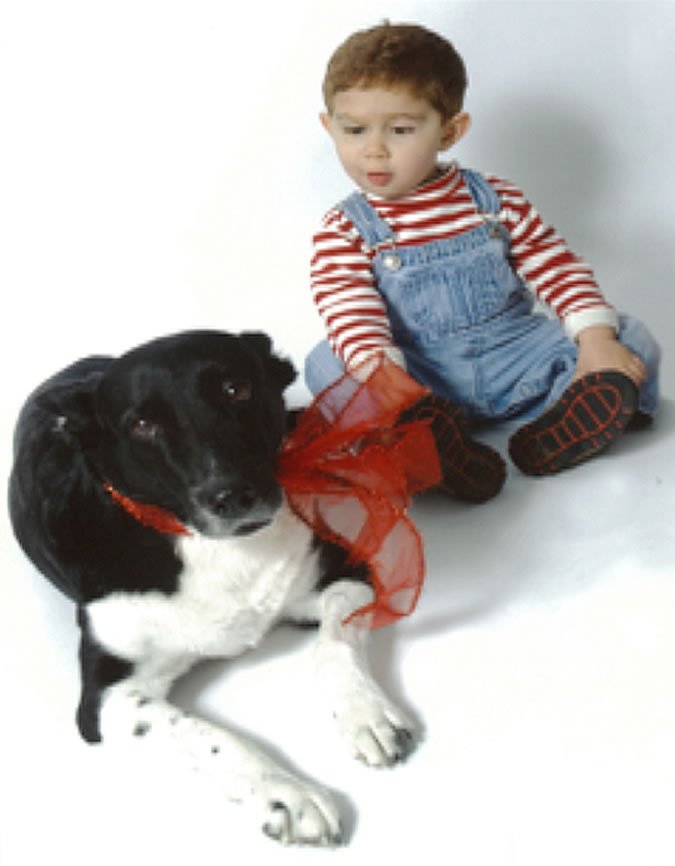 Some photographers of dogs are born great. Others have great photographers thrust across the street from them. It was my luck to have moved across the street from Michael Weymouth, one of the most highly successful and sought after commercial photographers around. That's how I got this great photo of my son, John, and our first dog, Ellie, when John was two.
I remember three things from the photo shoot more than 13 years ago: 1) how calm and patient Mike was with both John and Ellie, how he set toys out in front of John (some wooden train cars among them) to hold his attention; 2) how excited Mike was that John had red stitching on the soles of his sneakers (something we never noticed) because it would tie in with his shirt that had red stripes and the red ribbon we had put around Ellie; and 3) how Mike had camera equipment that I'm pretty sure cost more than my kitchen renovation.
Most people, of course, aren't armed with an arsenal of lenses and other photography accoutrements. But even without all the paraphernalia, Mike and two other successful photographers of dogs (and people) assure me, you can get an excellent picture of your canine family member — even with your phone camera. You just need to know some very basic rules. If you follow them, you can even get fidgety kids into the picture and come away with something you'll be very happy with. You can check out the rules in the article beginning on page 12.
And if you do happen to be something of a camera buff, you'll want to check out Pet Photography: The Secret to Creating Authentic Pet Portraits (Rocky Nook Publishing, rockynook.com), by Norah Levine. This gorgeous hardcover book contains lush portraits not just of dogs but also cats, horses, and other animals and is replete with advice for how to use your good camera to create your own lush photographs of the favorite pets in your life.
Another book we recommend in this issue (see page 8) teaches how to get your dog to copy your movements. You'll be surprised at your dog's powers of imitation. But even with the tips the book contains, we doubt you'll ever be able to get your pet to take pictures of you that are as good as the pictures you'll be able to take of him.