According to the American Society for the Prevention of Cruelty to Animals (ASPCA), dog owners spend an average of $1,314 on items for their small dog, $1,580 for a medium-size dog, and $1,843 for a large one — in the first year alone! Multiply that by the estimated 70 to 80 million pet dogs in the United States, and it adds up to quite a lot of stuff — toys, beds, and other pleasure- and comfort-giving paraphernalia. That means a lot of wear and tear on the planet through the use of materials and manufacturing processes that leave a large ecological footprint.
To cut down on your own contribution to global refuse, why not go green and purchase products that will both please your dog and go easy on the globe? It's a great idea, but it can be a bit difficult to know whether you're really putting your money where your environment is. For instance, "organic" and "sustainable" products are helpful, but products that are organic are not necessarily sustainable, and vice versa. Organic crops are grown without the use of fertilizer or herbicides, and that's good for keeping potentially toxic elements out of our ecosystem. But if the organic crops are grown on large agricultural farms, they are likely not sustainable, which is all about bolstering soil quality through such means as diversifying crops and having animals graze on the site.
Relax, we've done the studying-up for you — and have identified five terrific dog-product websites that not only meet standards for selling truly earth-friendly products but also go above and beyond in their commitment to healing our planet. Some have even earned recognition from Green America (greenamerica.org), which recognizes businesses that are committed to "using business as a platform for social change… [and] adopt principles, policies and priorities that improve the quality of life for their customers, employees, communities, and the planet."
This Brentwood, Tennessee, store that sells leashes, collars, toys, beds, and other accoutrements is also home to 16 rescue dogs whose photographs and stories grace the pages of the company's blog. All of Earth Dog's products are made from hemp, which is both organic and sustainable because it does not need herbicides or pesticides, uses half the water required to farm cotton, and grows twice as quickly as cotton so that it does not overwhelm the soil. (See the box on page 5 for more information about hemp and cotton as well as bamboo.) While the hemp itself is grown in Asia, all of the products, which are treated with low impact, non-toxic dyes, are made in Nashville.
The company sets aside some of its budget for its goods to be sent to animal rescue groups brought to its attention through an on-line request form.
Sampling of Products
Hemp couplers: Along with regular leashes, Earth Dog sells "couplers" used to control the tangling of leashes that comes with walking two dogs at once. Says one satisfied customer in a review, "I was looking for an easier way to walk our two large (70+ lb) dogs. This coupler was the answer. We've had this product for at least 6 years and we still have the original." An added convenience is that the couplers can be washed in cold water and then put in the dryer. They come in blueberry, ash, tangerine, leaf, fuchsia, and natural. Costs $21.00.
Martingale collars: Designed for dogs with smaller heads than necks so that you can get a "grip" on them without choking them and without their wriggling out (they are not recommended for unsupervised all-day wear), these collars of triple-layer hemp canvas are available in 27 decorative styles. They come in small (8 to 14 inches), medium (14 to 20 inches), and large (18 to 26) inches, ranging in price from $23 to $28. All proceeds from sales of the "super snooty" martingale collar benefit the Snooty Giggles Dog Rescue of Thompson Station, Tennessee.
This company's eco-friendly luxury items — beds, blankets, toys, totes, and bowls and brush handles made from planet-saving bamboo — have already caught the attention of both Southern Living Magazine and O, the Oprah Magazine. And Pet Product News International has bestowed upon the firm its Editor's Choice Award for rubber toys. Proceeds from several lines support the Mote Marine Laboratory in Sarasota, Florida, which focuses in large part on shark and dolphin investigations. Harry Barker also gives a portion of its proceeds from sales of its sweetgrass food storage cannisters and biscuit "tins" to the International African-American Museum in Charleston, South Carolina. Sweetgrass weaving is a centuries-old tradition brought to the U.S. by enslaved Africans and is still practiced by some people today. Sweetgrass-woven objects are owned by such notables as Prince Charles and the Empress of Japan.
The company also sponsors the Charleston Green Business Challenge, which promotes environmental sustainability while enhancing business profitably, and supports a Canine for Veterans program that provides service dogs — rescue dogs that have been re-trained by military prisoners — for wounded veterans.
Sampling of Products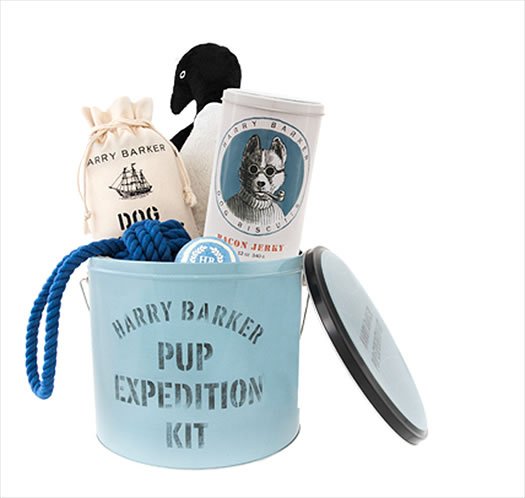 Pup Expedition Kit: This attractive bucket of fun items — a cotton rope toy of recycled yarn, a felt-covered rubber ball, a penguin plush toy plumped with eco-friendly fiberfill, and a drawstring closure cotton-canvas bag filled with chicken jerky dog treats and a recycled metal tin of cheese biscuits — is hand-packaged by the Hope Center of Charleston, which works with individuals who have developmental delays and related challenges. Costs $80.
Newport Dog Collar: These nautical-themed collars with anchors and stripes are lightweight, machine washable, quick-drying, and made from recycled plastic bottles. They are available in pink and blue, blue and red, and green and blue in small, medium and large, starting at $22. Other collars include the Canines for Veterans dog collar with red, white, and blue stripes and dots; the Eton collar with preppy-looking stripes; and gingham, leopard, plaid, and solid colors starting at $20.
This Seattle company creates beds that work toward lessening landfill impact. Much of recycled pet bed filling is made of shredded and melted recyclable bottles, which is all to the good. But Big Shrimpy takes it a step further by gathering fiber pieces from different waste streams for their fill so that they lessen the energy needed to reprocess bottles. Better still, Big Shrimpy is the first company to offer to take back beds for recycling when they are no longer wanted (though it cannot yet offer to pay for the shipping). For all that, the most eco-friendly aspect of Big Shrimpy's beds is that it sells parts in components, allowing consumers to replace over-used pillows or chewed-on coverings without cluttering the planet with a whole new bed.
The beds are sewn in a Chinese factory visited for two weeks by the company owners to make sure working conditions are humane. And the bedding refluffs with a turn in the washer and dryer.
Sampling of Products
Nest: This perfectly rounded and raised faux suede sleeping surface, made with recycled fiber fill and an inner nylon lining to repel odors and liquid, will make your dog feel like she is sleeping on a cloud. You'll rest easier, too — it comes with a three-year limited warranty. Available in walnut, plum, coffee, stone, paprika, saddle, leaf, and clay in small (27 inches for dogs up to 20 pounds, $111.30); medium (34 inches for pets up to 55 pounds, $142.61); and large (43 inches for big breeds up to 110 pounds, $168.81).
Original: The rectangular original Big Shrimpy bed, made of more than 80 percent recycled materials, comes with entirely faux suede or the addition of a fleece sleeping surface. Available in walnut, plum, coffee, stone, paprika, saddle, leaf, and clay in sizes similar to those of the Nest bed, with prices ranging from $92 to $240 (for the extra-large).
Note: You cannot purchase the beds from the Big Shrimpy site; that's where you learn about their products and how they're made. Search Amazon or other sites for purchase.
This Green Bay, Wisconsin, company has won numerous awards for its eco-friendly products combined with its penchant for bolstering communities, locally and abroad. For instance, it uses hemp fabrics and organic wools, and employs workers with cognitive and developmental challenges and/or living in poverty in both Green Bay and Newfoundland, Canada. No wonder Honest Pet Products is a recipient of the U.S. Chamber of Commerce Blue Ribbon 2014 Dream Big Small Business of the Year Award.
For dog lovers who are also cat lovers, it's worth noting that the company's wool cat toys come via the Snow Leopard Trust's Fair Trade Cooperative. In return for Mongolian herders protecting snow leopards from being hunted, impoverished local women are commissioned to create the wool toys utilizing traditional methods, earning extra money for their families.
Sampling of Products
Eco Fly-n-Tug: Made of hemp and compressed wool that is non-toxic and lead-free and colored with eco-friendly ink, this toy floats in water and is strong enough to be thrown about and used for tugging. It can be hand washed in cold water with mild soap and left to air dry. It is available in two sizes: 6 inches for dogs up to 20 pounds and 10 inches for dogs weighing more, both for $12.99.
Eco Tosser: Covered with a layer of hemp canvas and stuffed with organic wool filling, these balls make for a wholesome game of fetch with non-toxic, lead-free, and eco-friendly materials. They are also machine washable and dryable and are produced by disabled adults in Green Bay, Wisconsin. Available in three sizes: 2 inches for dogs up to 20 pounds, 3 inches for dogs 25 to 50 pounds, and 4 inches for dogs weighing more than 50 pounds, all for $18.99.
P.L.A.Y., which stands for Pet Lifestyle and You, is a 2015 Green America Gold Certified business located in San Francisco that has won nearly 30 awards for its work. The company uses more than 100 certified-safe recycled bottles in each of its large-size eco-friendly beds and also offers tips for how to keep the beds usable. These include removing the covers for cleaning and plumping up older beds with old clothing or other soft materials, extending their life.
Packaging is kept to a minimum. Even the company's paper product tags are certified safe by the Forest Stewardship Council.
P.L.A.Y. sets aside a portion of its proceeds for the Warm Bellies Initiative, which brings P.L.A.Y. dog beds to shelters. The company (which makes toys as well as beds) also invites students to apply for its annual Scholars Helping Collars Scholarship of $1,000 for the best story of how a student made a difference for a rescue animal or an animal welfare organization.
Sampling of Products
Snuggle Bed: Sleeping bag, mat, and bolster bed in one, the Snuggle Dog (or Snuggle Cat) Beds have luxurious faux fur with a dirt-resistant canvas on the nether side and can be molded to sink into, snuggle into like a sleeping bag, or just rest on in the house or when traveling. Available in charcoal gray, truffle brown, and husky gray in small (13 x 18 inches) for tiny dogs weighing up to 7 pounds ($55); large (18 x 25 inches) for dogs up to 25 pounds ($75); and extra-large (25 by 36 inches), for dogs up to 50 pounds ($109).
Under the Sea Giant Squid Toy: It's just one of five plush toys ranging from turtles to starfish that make up P.L.A.Y.'s Under the Sea Dog Toy collection. The International Fund for Animal Welfare, which protects wildlife habitats, assists distressed animals, and reduces the exploitation of animals for commercial gain, receives 2 percent of the price of each plush purchased from this line. All of the collection's plush toys can be machine washed and dried, come with a squeaker inside, and meet the standards for children and infant manufacturing. The giant squid is 16.3 x 3.8 x 3.8 inches for $14.90.