At least one survey has shown that 95 percent of dog owners — 19 out of 20 — buy Christmas presents for their dogs. Chances are you're among them. And yes, it's always nice for your canine pal to get a new ball or Frisbee or plush toy. But what about a gift that will keep on giving — warmth, comfort, ease of movement, protection from burrs and brambles? Check out these ideas. Your dog will thank you for your novel approach on what goes under the tree or next to the menorah.
Winter coats:
Of course, short-haired dogs like greyhounds, Chihuahuas, vizslas, and Weimaraners need a winter coat in northern climes. But even some Arctic or Northern breeds like shiba inus who, thanks to their natural insulation, love the cold winter months might appreciate another layer come those frigid days, especially if they don't like their trunks getting pelted by freezing rain, wet snow, or stiff winds.
There is a plethora of insulating, water- and wind-repelling coats and jackets that can keep your dog comfy in the cold. Just make sure that the information on the garment you choose mentions breathability because you do not want your dog to overheat. Adjustable straps are also a good idea, making for an easy on-off feature. "Machine washable" really helps, too.
When it comes to sizing, make sure to follow the manufacturer's directions on how to measure your pet. Even with adjustable Velcro straps and the like, the length and girth of your dog are important for the right fit. You certainly don't want to be hassling with an exchange on the 26th. Here are some really good options.
Polartech Dog Jacket (BT008) can be found on Alpineoutfitters.com, a site that offers supplies for working dogs who need quality coverage in frigid, snowy terrain. The jacket's Therma Stretch Polartec exterior is windproof and water-resistant and prevents snow from sticking. And its fleece lining provides extra warmth and comfort. Gender should be specified when ordering for correct urine tube placement. (Yup, these coats really cover as much of your dog as possible.) Costs $56 to $60 depending on size.
Kakadu Pet Nylon Shell and Fleece Lined Dog Coat has a nylon, water-resistant exterior with reflective piping for nighttime visibility. The interior fleece lining gives added warmth. Available on Kakudapet.com, Amazon.com, and other sites. Costs $14.99 to $19.99.
PetCee Dog Jacket provides a waterproof exterior with reflective material for additional safety after dark. Comes with a leash attachment. Available on Petcee.com, Amazon.com, and other sites. Costs $11.99 to $18.99.
Ruffwear Cloud Chaser has three insulating layers, a breathable windproof and waterproof outer layer, and raglan sleeves that provide warmth but don't limit movement, thanks to the four-way stretch fabric. A zipper makes it easy to get the coat on and off. Reflective trim and a loop to accommodate a flashing light provide ultimate nighttime visibility for safety. Available on Ruffwear.com and other sites. Costs $79.95.
Weatherbeeta Parka 1200D Dog Coat is made with a triple-weave outer shell that provides waterproof, breathable comfort while keeping your pet warm and dry. The nylon lining won't rub your dog's coat. And reflective stripes provide visibility in low light and darkness, while chest and belly touch tape closures make it easy to put on and remove. Available on Equestriancollections.com, Amazon.com, and other sites. Costs $23.99 to $39.95.
Zack & Zoey Polyester Nor'easter Dog Blanket Coat offers a water-resistant exterior and a fleece interior that can be reversed, depending on the weather. Available on Brookstone.com, Healthypets.com, Amazon.com, and other sites. Costs $13.33 to $21.95.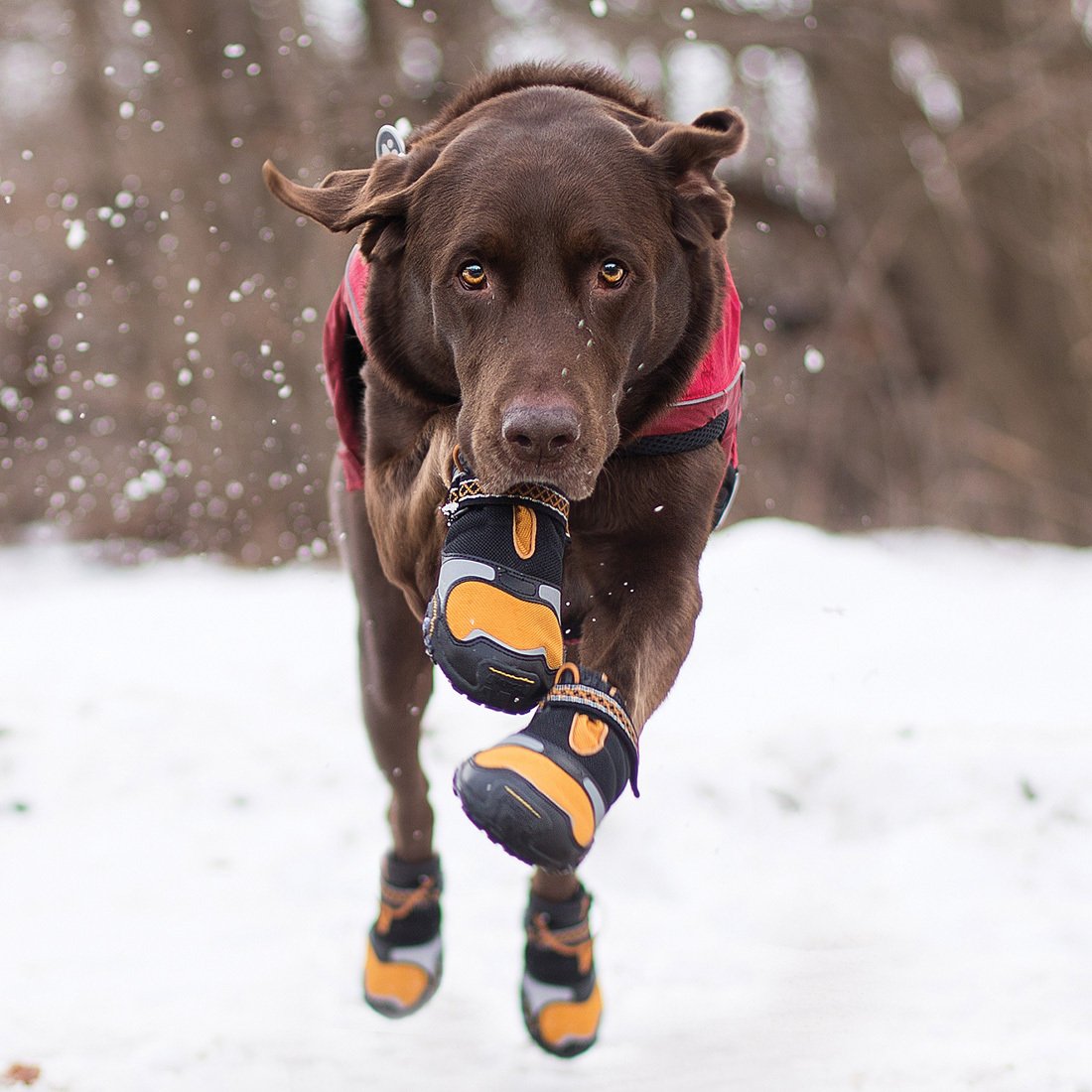 Boots:
Ice and hardened snow can cause wear and tear on your dog's paws, leaving him cold and sore, though you may never know it. And by running on slippery or uneven, hardened snow, he can easily hurt himself. Lightweight boots that provide good traction, lock out winter cold and wet, and keep rocks, ice melt, and other debris away from his paws will lessen his chances of pain, soreness, and injury.
Know in advance, however, that your dog will not at first think boots are a great idea. So when you introduce him to his new footwear, put the boots on gently, taking special care with his dew ("thumb") claws, if he has them. Treats can help make the whole idea more palatable for your dog. And walks should, at first, be short on distance but long on praise and even more treats. Make sure to follow sizing instructions, keeping your dog standing on firm ground and measuring the widest points of his paws so that you do not purchase boots that will squeeze his "toes."
Summit Trex Boots from Ruffwear repel moisture, dirt, and debris while providing traction for your dog on slippery, icy ground. Stretch material and a hook-and-loop cinch strap help fit the boots to your dog's specifications. The boots have reflective trim for low-light visibility. Available on Ruffwear.com, Zappos.com and other sites. Costs $59.95 (for all four boots).
Bark'n Boots™ Polar Trex™ by Ruffwear™ has a laminated, three-layer upper shell that is soft and breathable but also provides resistance to water and wind. The boots offer warmth and traction, too, to make long walks more enjoyable. An internal grip cuff, outside buckle ankle strap, and cord lock closure keep boots in place. And the 3M Scotchlite trim gives full reflectivity, while the soles grip the snow. Available on Ruffwear.com, Zappos.com, and other sites. Costs $89.95.
Kurgo Step & Strobe Dog Shoes combine rubberized, synthetic leather uppers and outsoles with a tightly woven mesh material to make for lightweight, breathable sneakers of sorts that can manage all terrains. An ankle cord lock makes for easy size adjustment. The ability to see your dog is excellent with a 3M reflective weld and alternating red and green LED lights. Available on Kurgo.com, Chewy.com, and other sites. Costs $46.50 to $53.99.
Muttluks Snow Mushers Dog Boots tout a "barefoot" technology that adapts and moves with the shape of your dog's paws. Breathable mesh and microfiber top and flexible traction treads of recycled rubber make managing the snow and ice much easier for dogs. And the fleece lining helps keep your dog's paws cushioned and warm, while an elasticized hook-and-loop closure is wound twice for greater snugness. The extra-large top opening even makes it easy to get the boots over dogs who have dew claws and, once on, to stay put. Reflective stripes offer visibility in low light. Available on Valleyvet.com, Drsfostersmith.com, and other sites. Costs $34.95 to $36.95.
RC Pets Ultimate Trail Boot for Dogs helps your pet "sidestep" debris, rocks, salted ice, and hot and cold pavement with a sole that provides traction and support and an upper that offers water resistance and breathability. The soft shell upper also has a hook-and-loop closure that expands to make the shoe easy to get on, stay in place once on, and then remove. The four boots come with a washable garment bag in which to carry them. (Boots for the hind legs are sized a bit differently for the best fit.) Available on Drsfostersmith.com, rcpets.com, and other sites. Costs $45.99.
Stair treads:
Many dogs are understandably wary of uncarpeted stairs, which offer little traction for furry paws. Investing in a full-length carpet stair runner may be too costly, but carpeted treads are easier on the budget, easy to install (and remove for cleaning), and will make it easier for your dog to go upstairs and down without a chance of injury due to slipping.
Alpine Neighbor Stair Treads are non-slip carpet pads with rubber backing that can be made even more secure with adhesive strips. The treads are safe for wood or vinyl-covered stairs. Available on Amazon.com. Costs $49.95 for 13 charcoal gray treads.
Bed, Bath & Beyond Weather Guard™ 2-Pack Argyle Stair Tread has latex backing to keep the treads in place. The treads are anti-static, machine washable, and certified slip-resistant by the National Floor Safety Institute. They come in many colors. Available at Bedbathandbeyond.com. Costs $29.99 for two.
Koeckritz Dog Assist Tiger Eye Carpet Stair Treads provide 13 do-it-yourself treads that you position and press with the roll of double-sided tape that comes with the package. The "Tiger Eye" carpet is a mix of gray, taupe, and white, which will make it workable for most color schemes. Available on Amazon.com and other sites. Costs $137.50 for a set of 13.
Harrison Weave Washable Stair Treads (and Runner) are 100 percent cotton and machine washable with a slip-resistant latex backing. The hand-cut treads come in rectangular and oval shapes, and the manufacturer makes a matching rug for the top of the stairs, where dogs often enjoy a good rest. The treads come in embossed or diamond key patterns and can be glued or taped for additional security. Available on Improvementscatalog.com, Amazon.com, and other sites. Costs $27.99 to $29.99 for a set of 4. (Multiply to buy enough for your staircase.)
Stair Treads Carpet Stair Treads provide a runner-like look without the expense. Latex backing keeps the stairs slip- and skid-proof. Comes in blue, white, and burgundy. Available on Amazon.com and other sites. Costs $19.99 for a set of four.
Ramps and Stairs:
Dogs who once bounded up and down stairs, on and off couches and your bed, and in and out of your SUV may be slowed down due to age and arthritis, but ramps and stairs can make it possible for your pet to once again go where he chooses without pain. For the best usability, make sure that the ramp you choose is lightweight enough to carry around the house and outside; that it is sturdy enough for your dog's size and weight; that it provides good traction; and that it can be stored easily when not needed. Stairs should also be appropriate for your dog's size and width. Getting your dog used to the ramp or stairs may take some time, but for arthritic dogs who have difficulty accessing their customary happy spaces, they can provide a true lift in every sense of the word.
Solvit Deluxe Telescoping Pet Ramp provides good traction on a ramp that's 20 inches wide and 48 inches to 87 inches long. The ramp comes with a carry handle, a safety latch, and a one-year warranty. Available on Amazon.com and other sites. Costs $105.59.
Rage Powersports Lightweight Portable Folding Aluminum Pet Ramp has a high-traction surface and a carrying handle and folds in half for transport and storage. Comes in 6 feet by 15 inches, 7 feet by 15 inches, and 8 feet by 15 inches, with prices from $117.9 to $161.99. Available on Amazon.com and other sites.
Pet Gear Travel Lite Bi-Fold Half Ramp provides a slip-resistant surface, built-in handle, and rubber grippers on the bottom to hold it in place. It measures 66 by 16 by 4 inches and is good for pets up to 150 pounds. Available on Amazon.com and other sites. Costs $47.29.
Petmate Lightweight Pet Steps II is a one-piece set of stairs for smaller dogs (or cats). It weighs only three pounds and is easy to move throughout the house. Its decorative gray fabric provides style and traction. Measures 23.2 by 16.1 by 20 inches. Available on Chewy.com and other sites. Costs $34.09.
Easy Step Pet IV Stair offers deep, wide steps so that even larger dogs up to 150 pounds can manage their way up the steps to your bed. Its removable carpet treads are machine washable. Better still, even though the steps can manage a good-size dog, they are put together by snapping the parts in place without the need for tools. Measures 33.5 by 16 by 30.5 inches and weighs 18 pounds. Available on Brookstone.com and other sites. Costs $87.99 to $90.99.
Head Protection
This is a one-of-a-kind gift suggested by Your Dog reader Lisa Peterson of Circle Pines, Minnesota. She thought of it when reading a question from a fellow reader in one of our issues earlier this year. That reader was concerned that her dog was eating pits from stone fruits that had fallen to the ground. (So Beth Karpos of Los Altos, California, this one's for you, along with others whose dogs won't stop chewing what they come across outside or end up like a pincushion for burrs.)
The product, OutFox Field Guard, is a mesh covering for your dog's head that will protect him not only from objects that can become lodged in his throat but also bugs like flies and mosquitoes and such hazards as foxtail, a spiky field grass that can become embedded in a dog's skin. Foxtail, prevalent on the west coast, is serious, nasty business. It can get stuck between the toes or in a dog's "underarms" but is easy to find there. If a dog breathes it in through his nostrils, however, or it becomes lodged in his ear canal, you won't know. This protective head gear will keep it away from those areas.
The mesh is comfortable enough for your pet to drink through while preventing him from eating sticks, rocks, and other inedible "treats" he happens upon while out walking. And the adjustable neck opening allows your pet to pull free if he becomes stuck. Comes in 5 to 6.5 inches to a special order for a dog with a head circumference over 25 inches. Available on Outfoxfordogs.com. Costs $46.