Dave Errico of a suburb just north of Boston was told during a veterinary visit that his dog had 3 to 6 months to live. That dog was Robby, a 10-year-old Cavalier King Charles spaniel — the breed most prone to developing a diseased mitral valve that leads to congestive heart failure.
"The news was pretty devastating," Mr. Errico says. "I remember sitting in the vet's office and googling right then and there what I could do, and I read on this website how a Dr. Uechi from Japan had mastered the technology to rectify the problem through surgery, and I saw how Dr. Rush at Tufts had visited him, observed him, so I called for an appointment with Dr. Rush.
"He confirmed my local vet's prognosis that Robby probably had 3 to 6 months and brought me up to speed on Dr. Uechi and the process. After making some more phone calls, I learned that Dr. Uechi used to come to Cornell to perform the operation but wasn't doing that anymore and was instead going to Versailles, France [just outside of Paris] three or four times a year.
"I found the hospital in Versailles — it's a husband-and-wife veterinary team — and started a conversation. The wife, Dr. Bozon, speaks English. This was, like, February, and she told me the next time Dr. Uechi would be coming was the middle of April. There wasn't much time. So I just made the decision to move forward and set up the surgery. Tufts had to send all the data and test results on Robby to both the folks in Versailles and Japan to make sure he was indeed a good candidate for the operation. He had to be a dog who wasn't too far gone.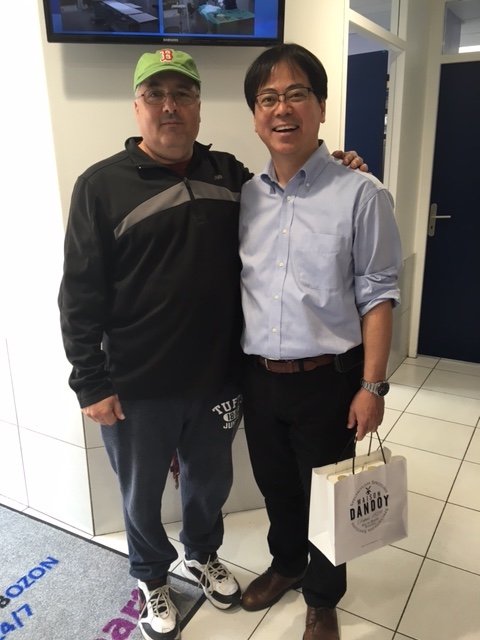 "I was extremely confident that the surgery was going to be successful. Dr. Uechi doesn't speak English, but I think he has done over 650 of these operations. And I called other people who had brought dogs to him.
"Tufts was fantastic in assisting as the intermediary with the hospital in Versailles and with Dr. Uechi in Japan. And Dr. Rush and his team were outstanding. But there were a tremendous number of mountains I needed to climb to make this happen, besides the financial one — $25,000 just for the surgery.
"The biggest hurdles were about the international travel for Robby, the paperwork. There was an 8-page application form plus veterinary sign-off on all the documents, and Robby was two weeks past the deadline for getting a rabies booster. Fortunately, Dr. Bozon — one of the most organized and professional people I've met — was able to get a special waiver through a French agency that might be comparable to our Fish and Wildlife Service that would allow Robby through as long as he was brought from the airport straight to the hospital.
"When my wife, Lorraine, and I finally got to Customs in France, I had a file of documents that represented all this legwork and preparation, including that waiver. I'm at the window and there are, like, 1,000 people in line. The guy behind the glass, kind of mean and nasty, doesn't understand what I'm talking about with all my paperwork. I finally just lifted Robby up to the window, and his tail started wagging like a windmill. A big smile crossed the guy's face, and he just kind of waved me through without really looking at the papers.
"The Versailles hospital basically mimicked Dr. Uechi's facility. Years ago they went to his location in Japan and then recreated everything down to the walls, the lighting, the equipment — they set up his exact same surgery facility. He comes over with probably at least half a dozen assistants and does four or five operations in the week that he's in France. When I was there, there was one person from Chicago, one from Los Angeles, me, and I think someone else from Belgium.
"The surgery itself, I believe, took 12 hours. In addition to repairing the mitral valve, what hadn't shown up on any of the electrocardiograms, the MRIs, was a very bad hole in Robby's heart. Dr. Uechi said it was the worst he had ever seen, but he was able to fix that as well.
"Robby had to spend two weeks in France before coming home. After the first week in the hospital he was definitely to the point where he could walk outside to go to the bathroom. And now he's fine. The operation was almost two years ago. There's no impression left of the shape he had been in before. Dr. Rush and the team at Tufts were very impressed to see the results.
"It's kind of confusing to me why nobody in the U.S. has been able to do this. The veterinary community in this country needs to catch up with what American families want. Society is different now, where families really look at their pets as family members, and they want to make every effort to prolong the life of their pets. It will be a damn shame if Dr. Uechi retires."