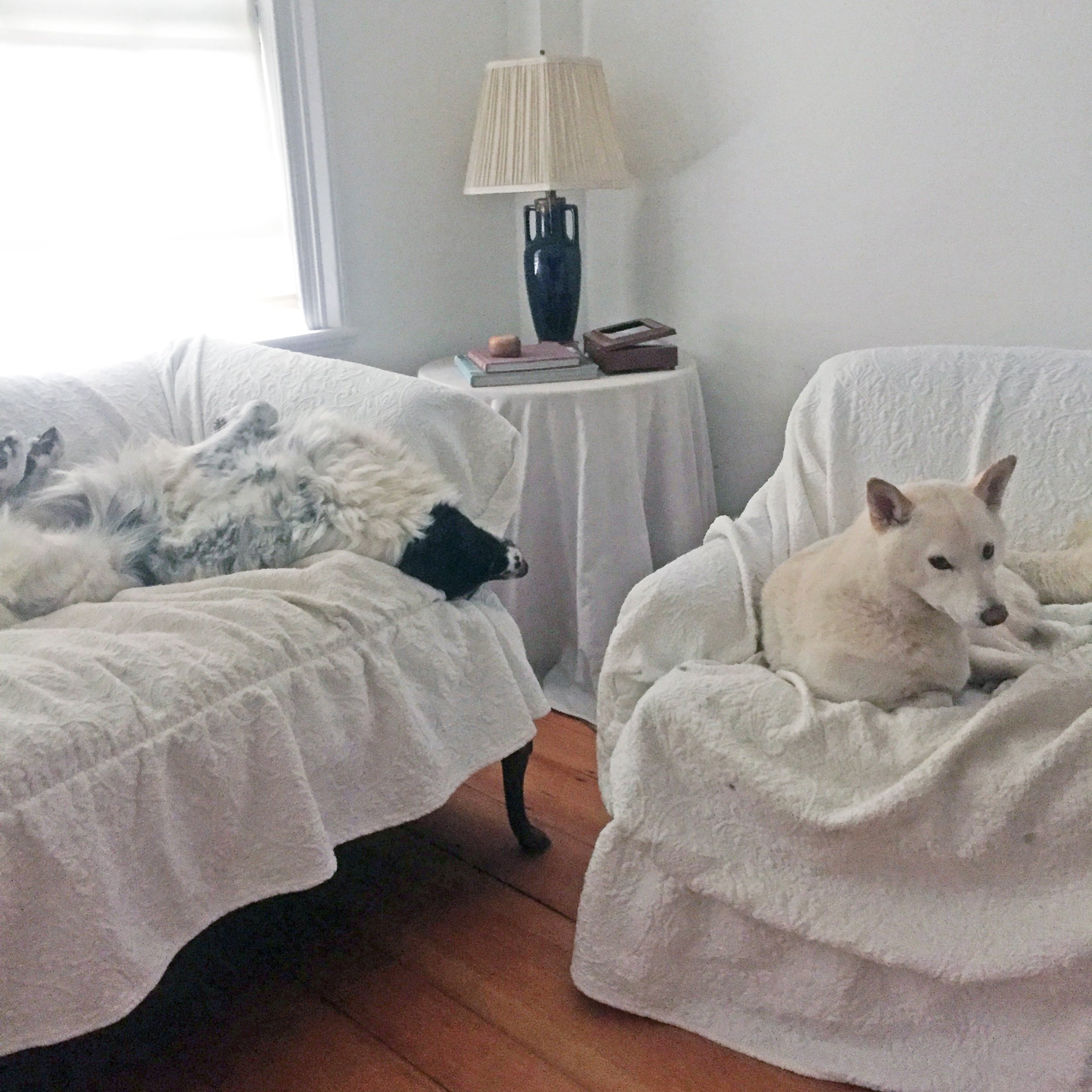 Every July 4th, Constance and I have always walked our son John down the street to the harbor to watch the fireworks over the bay. But we have also worried for the dogs. Did the great booms of the fireworks upset them? Were they bothered by all the people who walked down to the water past our house, or parked along our road? There Franklin and Rosie were alone, and we never knew how they fared.
This past July, we got to find out. At 14 going on 15, John wanted to go see the fireworks just with his friends. That was fine with us; it gave us an opportunity to reassure the dogs if they got scared come the loud noises.
They did not. Like two slugs, they lay on the couch in the living room through the entire evening, never even lifting their heads out of curiosity about the passers-by, let alone about the sounds that were responsible for the glittery show in the night sky down the street.
We are lucky. Some dogs really suffer from noise phobia, to the point that their owners have trouble even getting them out the door for a walk. More troubling, too, is that the phobia sometimes seems to come out of nowhere. A dog will act perfectly fine, then one day cower and refuse to budge for fear of noise — trucks rumbling down the street, car doors slamming, you name it.
Annette Cheney's beagle, Otis, was one of those dogs. He was absolutely fine about going out, and she and her husband thought he was perfectly content, until one day his noise phobia reached a tipping point.
It's not just noise phobia that gradually creeps up on dogs until their behavior finally takes a sudden turn. Other problems can also go under the radar for a while, for years, even, until they reach a point that the dog just can't bear the discomfort and starts exhibiting maladaptive reactions. You can learn more about this issue — and how to deal with it — in the article beginning on page 3.
I should note that Franklin does change his behavior suddenly sometimes. But it's not unexpected. It's whenever we go anywhere near the kitchen, or are eating, or say the word "food." Like a shot out of a cannon, he's there, ready for action. But that's a whole other predisposition.
Happy tails to you,
Lawrence Lindner
Executive Editor