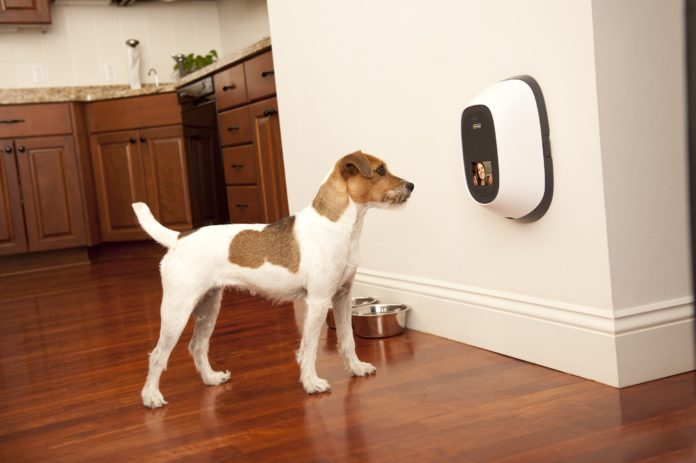 Thanks to a host of mobile apps and battery-operated gizmos, your time away from home does not have to mean time lost interacting with and caring for your dog. Mobile apps make it possible to link with gadgets that let you "chat" with your pet or watch over him from your smart phone. There are devices now that allow you to do the following remotely: feed your dog, let him out for some yard time, steer him away from in-house temptations like the garbage can, and more — all making for safer and less lonely alone time for your dog when you're not actually there but still virtually present. Here are six options we found particularly intriguing, some with overlapping (but not identical) features. They're not cheap, but as with most other electronic gadgets, as the technology advances and becomes more commonplace, the prices will probably come down.
Dropcam Dropcam's high-definition live-streaming monitor goes so far as to provide night vision so you can be there for your dog even in his darkest hour, so to speak, should you have left the house with all the lights off. And communication is made easier with two-way talk. You can hear Fido bark while he can hear you telling him to take his paws off the kitchen counter — or just speaking soothingly to him to let him know you care. You have the choice of checking up on your dog via your mobile app or through the dropcam.com website whenever you choose. There's even an option that lets you go over past footage to see what your dog has been doing to while away his hours; you can record his antics as clips or time lapses.
The monitor provides a 130-degree field of vision and a zoom that magnifies by eight to make it easier to hone in on specific sites in your house — not just the ever-enticing kitchen counters but also the front door or windows — making the item a home-safety device as well as a pet monitor. From $155 to $199, depending on the retailer. For more information, visit dropcam.com.
PetChatz is a video monitor that can be hung on a wall at your dog's eye level so that you both get the greatest benefit of catching up face to face. Plugged into a wall outlet, the monitor links with your WiFi and your smartphone app so that you can touch base with your pet when you're away from home. But PetChatz provides more than just a means of teleconferencing with your pet while you're at the office. With the tap of your finger from wherever you are, the gizmo also allows you to dispense chicken, liver, or salmon treats that come out the bottom of a chute. It scents the air, too, with pads that can be perfumed to suit your dog's preferences, providing a greater sensory impact to your virtual visit. PetChatz recommends that you use their calming blend of lavender, chamomile, ylang ylang, and marjoram, or some other scent that can be maintained so that your dog makes the connection between an enjoyable odor and an enjoyable experience as he talks with you and perhaps receives one of his favorite treats through the "treat chute." You can also use PetChatz to record videos of your tete-a-tetes that you may want to share with others. Available for $349.00 at petchatz.com.
PetCube, a 4-inch aluminum-encased cube, connects your WiFi with a smartphone app to provide a wireless window on your dog's day. A microphone and wide-angle camera enable you to talk to your dog and make it possible for you to see what he is up to or how he responds to your words. It even allows operation from your smartphone of a laser light that your dog may enjoy chasing. Access to the interactive video camera may be shared with others so that your dog can receive a number of "visits" replete with laser-chasing and good conversation to punctuate his day. Interactions can be captured in high-definition pictures as well, or video that can be shared with others. Available for $199 at petcube.com.
Petnet helps you keep your dog's feeding schedule just as he likes it, or at least as he is accustomed to. The smartphone app provides remote management of your dog's meals while you're away, with portion sizes set by you and notifications to let you know if your has dog received his food; if you're running low on kibble; if new product options are available; and even if the machine's battery is running low. Available at $179 at www.petnet.io.
Power Pet Automatic Pet Door doesn't require a smartphone. It's operated by a sensor attached to your dog's collar, signaling "open" and "close" commands to the door when he approaches it directly (not when he happens by or rests in the area). That means that even though you're not home, your dog doesn't have to wait for you or a pet sitter to arrive to get some fresh air. And because the operation of the door depends on the sensor attached to your pet, only he — and not wildlife — is able to come and go at will. Models can be fit into walls or doors, including your sliding glass door. Prices vary widely, ranging from $299 to $489. More information can be found at hitec pet.com/powerpet doors.html.
Tattle Tale Sonic Pet Training Alarm can startle your pet away from what you designate as undesirable foraging or resting spots, such as kitchen counters, garbage cans, and couches covered in silk moire. It trumpets an alarm that sounds for several seconds when he attempts to access any area he shouldn't. The vibrations set off by your dog's paws touching the counter or edge of the area where the alarm has been placed triggers the noise, surprising him so that he stays away. The machine can be set at a low or high volume and will reset itself after it completes its seconds-long warning. It can be hung or placed anywhere you want to keep fur-, paw- or snout-free. (Works for cats, too.) The price ranges from $22.95 to $37.98 at retailers. More information can be found at www.kiienterprises.com. (Note: Whether your dog can be desensitized to the intrusive noise over time and ignore it is an unknown.)