"I don't consider myself an animal person," says Kat Powers. "But there I was sitting on the floor, getting kissed by a mini horse and patting a very, very large Newfie. At the same time, I was looking over at very tense mental health volunteers flown in from all over who were assisting families going through their worst week ever. And for the first time since the tragedy, as they walked up to dogs and other animals and hugged them or as animals approached them to give a kiss, I saw them relax. I was watching their shoulders as they went to pet a dog. They were letting down."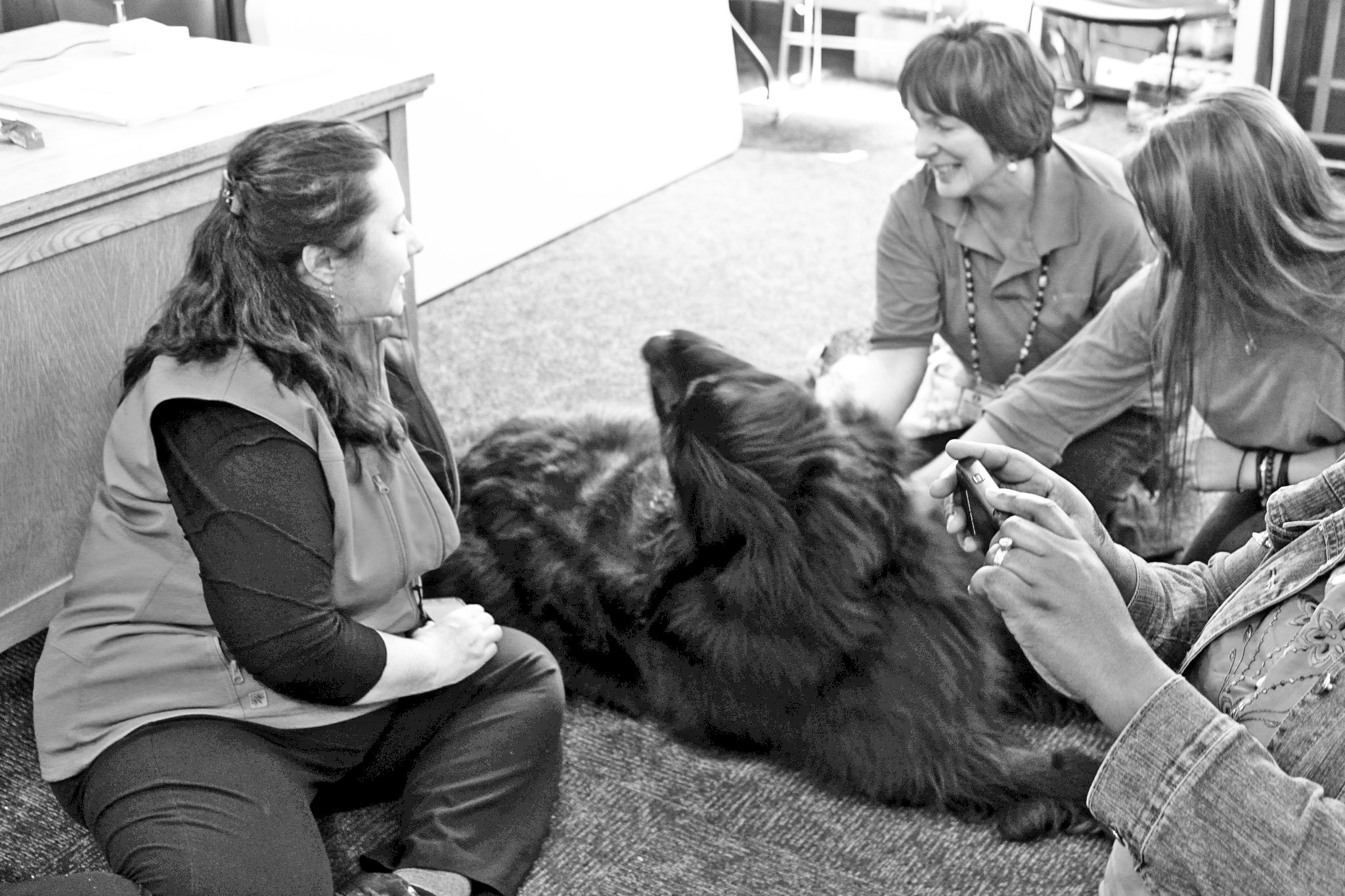 Ms. Powers, the American Red Cross's Director of Communications for Eastern Massachusetts, is describing a scene at the Red Cross's headquarters in Cambridge, Massachusetts, just days after the Boston Marathon bombing. More than 300 volunteers assisted in the effort to help Boston's victims heal in the aftermath of the event. But it was the dogs and other animals who were healing the healers.
Those animals came from Tufts Paws for People, an animal visitation group based out of the Cummings School of Veterinary Medicine at the university. The organization is the Massachusetts affiliate for the Washington state-based Pet Partners program (petpartners.org), which provides workshops and training for animals and their handlers to assure safe and insured pet visitation and therapy. Most often animals affiliated with Pet Partners — they have chapters around the country and in Europe as well — go to places like nursing homes, schools, and hospitals. But this was different. As Ms. Powers says, "this was the most abnormal event that many of us will see in our lives."
The Tufts-trained handlers and their animals didn't go only to the Red Cross. Just six days after the bombing, they were attending support group meetings for Boston Athletic Association volunteers and First Responders who had done everything during the race from handing out paper cups of water to entrants to flying out from the medical tent at the finish line to pull the wounded from the site and save lives, literally. The handlers also took their pets to the campus of the state university where the younger bombing suspect had been attending school; and to his high school alma mater in Cambridge, a city just across the river from Boston that had been on a virtual lockdown for an entire day while he was on the run. They went, too, to the police barracks at the MIT campus, where one of the MIT police officers had been shot dead in the chase, and to memorials held in the middle of Boston near the bombing site.
The effort was the brainchild of Tufts veterinarians Lisa Freeman, DVM, and Deborah Linder, DVM, as well as Tufts veterinary technician (think animal nurse) Debra Gibbs. "I had run the Boston Marathon with about 20 other people from the vet school in 2007," says Dr. Linder, who is on the Paws for People steering committee at Tufts. "I served twice as a volunteer, including this year. So I feel very connected to the event. It feels very personal.
"I had been handing out water at mile 10, in a town called Natick, and after we finished cleaning up, I was uploading photos from the day and sending them to friends when they started e-mailing me to see if I was okay. There was a lot of confusion — and shock. The e-mails started flying that night between me; Dr. Freeman, who serves as the Tufts faculty advisor for Paws for People; and Deb Gibbs, the Paws for People program coordinator.
"I hugged my dog for three days straight after the bombing and wanted to be able to help. When I was invited to one of the volunteer support group sessions, I offered to bring a group of therapy animals with their handlers, and they said yes.
"I was glad there was a way we could be of service. We felt bad that this is our hometown and we invited everyone in, but we couldn't keep them safe. The pet therapy was the best thing because in some small way we could contribute. We weren't putting limbs back together or saving lives, but people who were doing that could come take a break and pet my dog, or someone else's, or another animal. These were people working in the hospitals. They had been on the front lines."
Says Paws for People program coordinator Debra Gibbs, "At all the support group sessions, folks would get overwhelmed and cry for a while with the animals, then go back to their work helping the victims. They had at least a few moments of release.
"We were not able to do any actual hospital visitation because the Tufts Medical Center was essentially on lockdown, and when that was over, the bombing victims who had been sent there had already been released. But even before that, volunteers tending to the victims had been traumatized by what had happened and needed comfort, respite. They needed to have their psyches healed. Group meetings were held in hotels and other venues."
People reacted in different ways to the animals. "I saw the full gamut," Dr. Linder says. There was crying. Some people, you could see they were very tense. But their emotions definitely changed when they were able to sit next to a dog, be with a dog. One person who couldn't keep from fidgeting stopped when he started petting a dog.
"It's a temporary distraction," she acknowledges. "It's not the answer to everything. But even if it's just a temporary relief, I'm glad we can help in that way."
Adds Ms. Gibbs, "it was tremendously uplifting to be able to do something. I was so proud of our group."
As for what's next, the therapy dogs trained at Tufts's Paws for People will continue to offer help wherever needed in the upcoming months. Ms. Powers of the Red Cross will continue to help her volunteers help others. Ms. Gibbs will keep spreading the word about the value of therapy dogs. And Dr. Linder has started training for the Boston Marathon in 2014.
For information on how you and your dog can become a therapy team, see the sidebar.