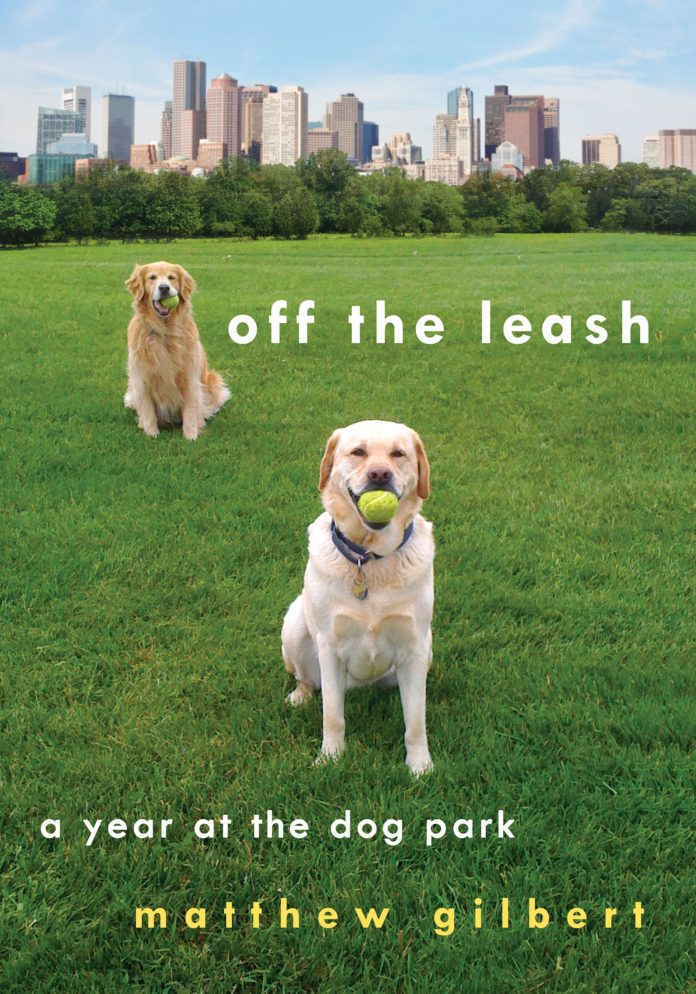 Matthew Gilbert, by his own account, was "that guy who rolled his eyes at people who treat their dogs like children. Dogs were dirty and scary," he says in his recently released book, Off the Leash: A Year At the Dog Park (Thomas Dunne Books). He even once spent a night sleeping in the bathroom, using a roll of toilet paper as a pillow rather than facing his college roommate's dog, who was hankering for a play date with him on the other side of the door.
Gilbert lived what you might call a very edited life as the television critic for the Boston Globe, with a set schedule and a cautious heart, born in part of his father having died when he was three. Until yellow Lab Toby came into his life, that is — and showed him how to color outside the lines, so to speak, how to take more emotional risk, unpredictable as that might be.
When Gilbert and his husband took Toby home from the breeder's at the age of seven weeks, it was all he could do not to rub Purell on his hands whenever he picked up his new puppy's waste with a plastic bag. But gradually, at a local dog park where he met and came to know a cast of human and canine characters, he loosened his rather tight grip on himself, taking his dog's lead in sniffing out others and entering fearlessly into new relationships. "I brought my glass bubble, my caution and resistance, to the park, and Toby brought a free spirit born to make friends, to entice them into tugs-of-war and ball games and dashes," he explains.
The book devotes itself to showing how Toby helps Gilbert let himself off his own leash. When they first visit the dog park, Gilbert keeps to his own corner and describes his fellow dog owners (and himself, to be fair) as a "pack of freaks," referring to people like a woman named Margo as someone with "a nest of red hair" and "buttons pinned like medals on the front of her jacket — PLANT A TREE; HUG A PERSON WHO HUGS A TREE." But by the end of the book, he and Margo are two friends who clearly love each other. She knows he needs to be drawn out; he knows he needs to be drawn out by her.
There's also Haley, who buys Toby a new yellow football when another dog (not even her own!) steals his; Claude, who has a gray midsize mutt named Panda and who can recite stanzas and stanzas of apparently any Shakespearean play for the asking; a woman with two West Highland terriers always on her cell phone and who seems rude until Gilbert learns that she works at a halfway home for intellectually challenged youths and uses her lunch break at the park to see how the house counselors are doing while she walks the dogs; and Saul, who doesn't have a dog of his own but who wanders the perimeter of the park as friendly as can be as he drifts gently into dementia.
Some encounters and revelations are particularly touching. One nameless construction worker, in what Gilbert calls a dam burst of personal recounting, talks about how he got his loyal 14-year-old dog, Maya, "in the divorce" and says that while he tried to tell his ex "that there isn't much time left," that Maya was old and life short, "she pushed me out the door." And a woman named Lucinda with a Great Dane called Nellie confides to Gilbert about having lost her daughter to cancer a few years earlier. Even more surprising, another dog park regular, Drew, an athletic man's man "who threw a ball every day for his ridgeback mix and who'd probably never boiled an egg," showed up at Lucinda's door upon hearing of the death "wearing a pair of oven mitts and carrying a heated-up frozen pizza."
No small part of the pull of this book are the wonderful turns of phrase Gilbert uses to describe the dogs in his ever-shifting park circle. An Italian greyhound named Enzo "sprints forward like a sprung rubber band." Nellie the Great Dane trails behind and above Toby "like a gigantic Disney balloon at the Macy's Thanksgiving Day Parade." A gathering of bulldogs appear as "these giant, rubbery, swollen pencil erasers bouncing off one another….a small army of Winston Churchills." And his own yellow Lab darts through people's legs like they are "a Stonehenge to run in and out of" and play fights with a golden retriever so that they look like "a blur of red and yellow fur rolling over and over in the porthole of a clothes dryer."
By the end of the book, Gilbert's transformation is complete. He now leads what he calls "a more unedited life."
"We were at the Cheers bar," he says of himself and his dog park compatriots, "and the dogs were the booze that loosened us up."
Of course, his particular homage is to Toby. "Once you loved a dog," he says, "once you knew the depth of love you could have for an animal, once you loved a dog while understanding that he or she would probably leave before you, you were a richer person for the rest of your life."
Since you're reading this newsletter, you no doubt get it. Anyone who has ever loved a dog will love this book.
Five stars. Highly recommended.