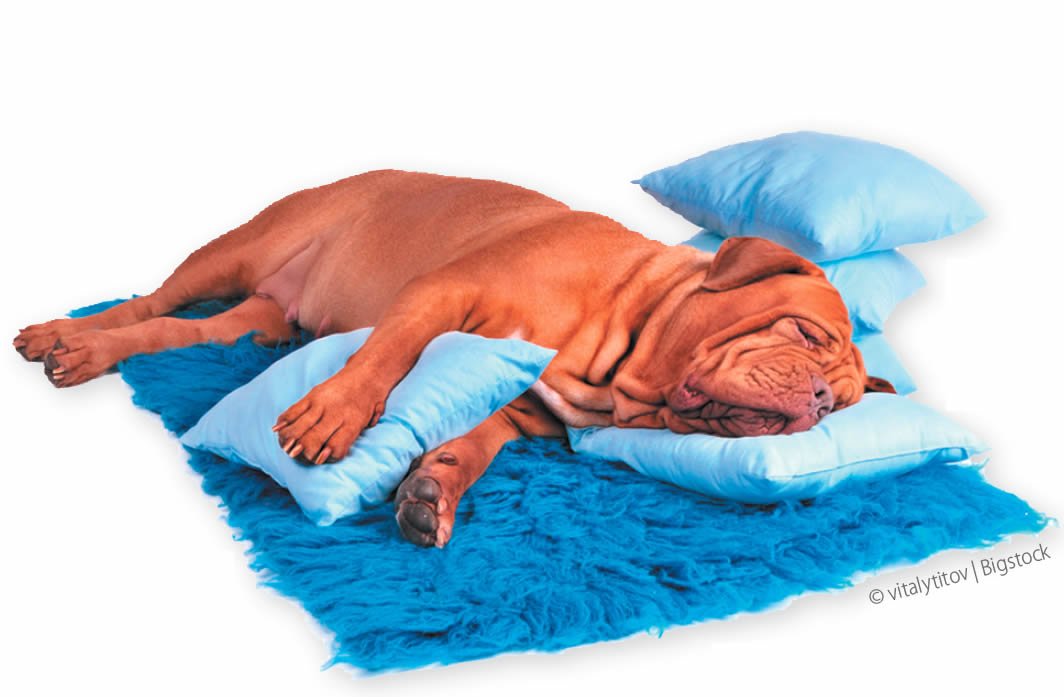 Every dog should have a bed. It's a go-to spot they love, whether to snuggle, snooze, or get a good night's rest. But which bed is best? It depends on your canine pal's proclivities, health conditions, and age. A dog's bed needs to change through the years, and you may want to switch beds as she gets older. Here are eight types of beds, along with features that may suit a dog's specific needs.
Cave Beds. If your dog craves soft cozy spaces in which she can feel cocooned yet see all the action, a cave bed might be just the thing. It has a soft hood on top that curves over the "mattress" but doesn't extend outward quite as far, so your pet can comfortably nestle inside. Like a crate, it makes a dog feel protected while allowing her to be in the thick of things.
Some brands to check out: Snoozer Luxury Cozy Cave Bed, Yosoo Shark Round House Puppy Bed with Pet Bed Mat.
Cuddler. A high cushioned rim around the perimeter of the bed gives your dog a feeling of being cradled.
Some brands to check out: Best Friends by Sheri Deep Dish Cuddler, Halo Reversible Rectangular Cuddler Dog Bed.
Orthopedic. For dogs with creaky joints or other musculoskeletal problems, an orthopedic bed made from thick foam provides added support. This extra cushioning relieves pressure on the spots that ache and makes it easier for your pet to rise or shift positions without paying the price.
Some brands to check out: Brentwood Home 4-Inch Quilted Gel Memory Foam Orthopedic Dog Bed, Big Barker Pillow Top Orthopedic Dog Bed, Casper Dog Bed.
Temperature Modulating. Does your dog leave his bed for the cool of a hard tile or wood floor? Or does he shiver on the hard floor and need a bed designed to hold body heat? There's a bed for him. Some have temperatures that adjust via a pad that you stick in the fridge, freezer, or microwave before inserting into the bed depending on whether your dog is too hot or too cold. Others trap heat in between two layers that then makes your dog feel warm.
Some brands to check out: K&H Manufacturing Self-Warming Lounge Sleeper, Furimals Warming and Cooling Pet Mat (an insert that can be removed from its fleece covering and cooled in the fridge or freezer or warmed in the microwave, providing instant comfort depending on your pet's heating or cooling needs that day).
Elevated Beds. A lot of dogs like to be high up, like you on the couch. Elevated beds do the trick without your pet getting hair or drool on your sofa. Some of them actually look like a little sofa.
Some brands to check out: Gale Pacific Coolaroo Elevated Pet Bed, Enchanted Home Pet Cliff Bed Ultra Plush Pet Bed.
Crate Beds. Not so much beds as cushioning pads, they are made to fit crates and kennels of varying shapes and sizes, adding to your dog's cozy feeling. Some come with orthopedic supports and also have cushiony sides, sort of like crib bumpers.
Some brands to check out: Pet Dreams Plus Cratewear Set, P.L.A.Y. Pet Lifestyle and You Crate Pad.
Donut Beds. Also known as bagel beds, these beds are similar to cuddlers, with their raised rims going all around the bed's circumference, usually covered in soft material and with plush bottoms.
Some brands to check out: Brookstone Bowsers Donut Bed, SlumberJax Luxury Donut Dog Bed.
Basic Beds. Your dog doesn't have to be arthritic, or cold, or hot, or fussy to enjoy a good bed in the form of something akin to a plush pillow. Some just feel good as well as provide a nice home "base."
Some brands to check out: Dogbed4less Heavy Duty Overstuffed Orthopedic Memory Foam Pet Dog Bed, Armarkat Pet Bed Mat.