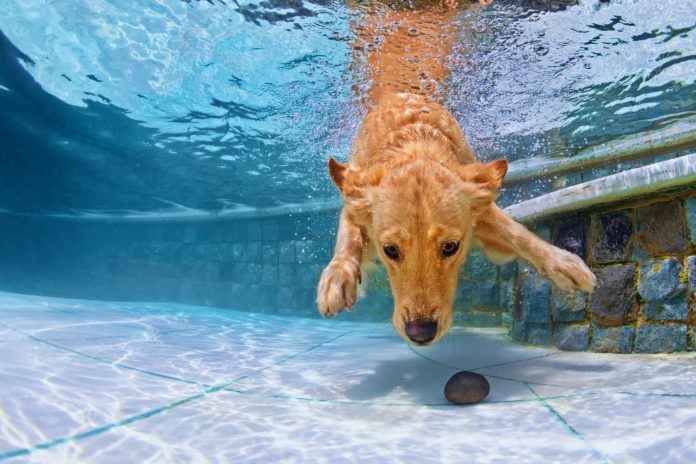 Nothing beats the summertime heat like a dip in the pool or a visit to the beach or a lake, and many dogs, like their human family mates, enjoy all the splashing around. They're probably not going to be willing to go down the water slide with you, but toys and gear are available that will enhance their pool or shore-side experience. At the same time, a number of other items will help insure their safety. First, the fun stuff!
The most fun is interacting with you
With dogs, it's not every man for himself. It's everyone for each other — they want to be engaging with you while enjoying the water. Fortunately, there are plenty of toys designed for that very purpose. Look for durable, buoyant materials, and if possible, choose items that sport some blue and yellow — two colors dogs can see well.
Kurgo Skipping Stones Floating Dog Fetch Toy. Your dog will love this gift, which comes as a two-pack of colorful, durable toys that look like stones and even skip over the water — yet remain afloat for your dog to easily retrieve. The durable, nontoxic synthetic rubber "stones" are unevenly shaped and so bounce in surprising directions, making the chase more interesting for your dog. Dishwasher-safe, they cost $12.99 per package on Westmarine.com, Amazon.com, and other sites.
Aqua Pup Pool Float. How is a float an interactive toy? When you pull your dog around on it, that's how! He will really get a kick out of it. This bone-shaped polyfoam bed covered in a vinyl-coated fabric that resists tears can be used not only on the water but also on the deck for an after-splash lounge and needs only a hosing down to keep clean. You can even take it into the house to be used as a pet bed. The mildew-resistant float comes in a variety of colors including white, lime, seafoam, Kentucky blue, violet, tangerine, peach, pool blue, yellow, and raspberry. Comes in small and large with prices ranging from $74 to $109. Available on Frontgate.com, Wayfair.com, Amazon.com, and other sites.
Chuckit! Hydro Flyer. Here's a toy that allows for easy long-range throwing combined with buoyancy for lake, beach, or pool fun. An internal reservoir sprinkles water while the flyer is mid-air. Comes in a blue and red combination that makes the toy easily visible not just for your dog but for you, too. Costs $9.99 and is available on Farmandfleet.com, Amazon.com, Walmart.com, and other sites.
Chuckit! Amphibious Bumper Floating Fetch Toy. An unsinkable toy made of rubber, nylon, and memory foam, this gizmo is durable yet also easy on your dog's teeth and gums. And the rope handle allows for playful tugging and easier throwing. Brightly visible colors include green with blue trim and orange with blue trim. Small, medium, and large sizes range from around $3 to $9 on Amazon.com, Chewy.com, Petco.com, and other sites.
Doggles Get Wet Toys. Made of neoprene with a buoyant ball held together by flat-sewn seams, this floating toy has two squeakers that work in or out of the water and comes in a variety of brightly colored animal shapes. Better still, your dog can chew on the thing and make the squeaking sounds to his heart's content without damaging his teeth or gums. Comes in blue frog legs; yellow duck; and green frog for $13.50 on sites including Doggles.com, Amazon.com, and Petocart.com.
Chase N Chomp Dog Ring Dog Toy. This 1-inch-thick rubber foam ring measuring 6.5 inches around is fun to catch when thrown — and easy to spot from the other side of the pool when your dog goes after it, since it comes in yellow. Costs $7.97 and is available on Mickeyspetsupplies.com, Drsfostersmith.com, Amazon.com, and other sites.
Floppy Disc "Made in USA" Soft Flying Disc Toy for Dogs. A safer alternative to plastic discs, this "saucer" is made of soft cloth that can travel the distance but land softly on the water — and then float. Made of durable fabric, it comes in green with red trim or red with green trim in 7-, 10-, and 12-inch diameters ranging in cost from $9.96 to $16.99 on Amazon.com.
Paws Aboard Doggy Dog Pool Float Lazy Water. This vinyl float, which looks like a large yellow and blue paw print, measures 50 x 39 inches — great for dogs in the 30- to 90-pound range. (Congratulations — pulling your large dog around on one of these turns you into a tug boat.) The easily inflatable raft also deflates to be hung efficiently from its attached single loop. The raft is durable enough that it comes with a dog claw puncture-free guarantee. Costs $63.80. Available on Amazon.com, Overstock.com, Healthypets.com, and other sites.
Planet Dog Orbee-Tuff Buoy Dog Toy. The uneven rubbery design of this buoy-shaped toy will leave your dog guessing which direction it will bounce in. His attention will be held even more by the Treat Spot that holds goodies your pet needs to work at to retrieve. The rope handle allows for a nice game of tug-of-war and also makes throwing the toy for subsequent fetching that much easier. Comes in a blue and red design. Costs $18.95. Available on Planetdog.com, Chewy.com, Dog.com, and other sites.
SwimWays Paddle Paws Dog Pool Float. For wee dogs to Saint Bernards, the puncture-proof material, metal frame, and innerspring sewn along the circumference of this float provides a firm and comfortable hammock-like lounger for your dog with a raised rim where he can rest his head over any side. Blue with white pawprints design. Comes in small to large, for dogs weighing less than and more than 65 pounds, from $44.99 to $64.99. Available on Swimways.com, Amazon.com, Overton.com, and other sites.
ZippyPaws Floaterz. A riff on Doggles Get Wet toys, this one, too, comes in a variety of animals—duck, turtle, shark, or walrus—and also contains two squeakers. The toys are covered in a strong reinforced fabric with border webbing and "Z-Stitch Technology" that withstands chewing. Bright colors include green, blue, yellow, and violet. Costs $10.97 on Baxterboo.com.
Keeping them safe while keeping them happy
While the title of this article is "Everybody Into the Pool," not all dogs can swim. Sometimes it's because of their body type. Brachycephalic dogs, whose flat faces need to be held aloft to breathe, are unable to balance well in the water because their bottoms tilt down to compensate. Dogs with a short leg-to-body ratio, like Dachshunds and corgis, also have difficulty managing the water, as do dogs with compromised limbs as a result of surgery, arthritis, or extra girth.
Not all dogs, including some capable of swimming, like the water, either. They shouldn't be forced in; just let them hang out poolside.
Even families whose dogs do want to jump or wade in should never leave their pets near the water unattended. They are our "children." They can find themselves in a bind and need your help getting out. Consider that a dog may not understand that there are steps under the water in a pool and end up swimming around endlessly trying to figure out how to get out, eventually becoming exhausted. Potential problems are just as important to keep in mind at the beach. Even sending your dog out into what seem like calm waves to retrieve a ball or other toy comes with the risk of rip tide.
For extra safety beyond your own set of eyes and arms, especially for adventurous dogs who don't tend to exercise caution, consider these items.
Life jackets
Features to look for include lifting handles, bright colors with reflective trim for visibility, and adjustable straps for proper fit. As far as usability, choose gear your dog can maneuver in easily for activities where you are close by — but not so comfortable that he won't be safe when you're not right there and he really needs the extra protection.
EzyDog Dog Flotation Device. Made of polyester and neoprene, it provides comfort with buoyancy with an ergonomic pull handle, adjustable straps, and a nylon D-buckle for additional safety. Comes in red or orange with black features and reflective trim in x-small to large from $49.50 to $59.50. Available on Theanimalrescuesite.greatergood.com, Frontgate.com, Amazon.com, and others.
Kurgo Surf and Turf. Designed to provide freedom of movement for your dog's rear haunches and front shoulders and with a tapered fit that wraps to the belly, this lifejacket also has two lifting handles. Removal of the flotation material inside the jacket converts it to a handy weather shell to give your dog some relief from inclement weather when he goes back to being a landlubber. The red jacket with black trim is machine washable and comes in x-small to x-large with a price range of $35 to $58 on sites including Chewy.com, Moosejaw.com, Amazon.com, and more.
Outward Hound PupSaver Ripstop. The jacket provides chin support to keep your dog's head above water and has a multi-handle design to help you pull your dog from the water. It also has adjustable side release buckles for a secure fit. Hand wash and hang dry. Comes in bright colors with reflective accents for visibility in sizes x-small to x-large with a price range of $15.99 to $27.99 on sites including Drsfostersmith.com, Chew.com, Jet.com, and others.
Ramps
For families who spend considerable time in and/or on the water, ramps can provide not only safety but also greater ease of use for your dog, allowing him to enter and exit the water more hassle-free.
Original Doggydocks Floating Water Ramp for Dogs. This item does double duty as both a floating water toy and a lightweight, 28-pound ramp that lets dogs get out of the water without needing assistance by attaching to flat surfaces. Your pet will easily reach the swimming pool deck, boat platform, or dock. Better still, using the ramp is intuitive — he won't need to be taught how. It comes in blue, black, red, or tan in an original, jumbo, and foldable model, with prices ranging from $345.00 to $410.00. Available on Pupgearcorporation.com.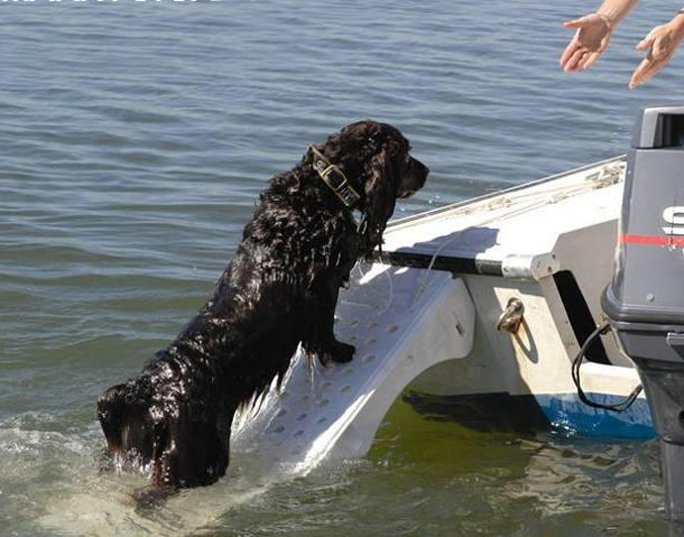 Paws Aboard Doggy Boat Ladder and Ramp. Weighing only 12 pounds, this portable ramp that will allow your dog to easily come back on your boat deck from the water weighs only 12 pounds. Costs $196.99 and is available on Amazon.com, Overstock.com, Jet.com, and other sites.
Super Skamper 42-Inch Pool Pet Ramp with Extension. For dogs up to 200 pounds who may have fallen into the water by accident or simply want an easy way to exit a pool or boat without assistance, this ramp will do the trick. The white ramp is easy to spot even at night and snaps together without bolts, strips, or nuts. And it's made of recyclable plastic. Safe for vinyl-lined pools, it has a one-year warranty and costs $79.99 at Bedbathandbeyond.com, Petsmart.com, Dog.com, and other sites.