Fully 95 percent of dog owners buy Christmas gifts for their pets, according to a survey reported on by Pet Age. On the one hand, it may seem silly. After all, dogs don't understand the holidays. They don't even understand what a holiday is. On the other hand, making sure the dog gets some attention by presenting her with a gift on a day that her routine is completely thrown off, often with people on the scene who she doesn't know or hardly knows, can be a nice way of remembering that she likes being "in" and also needs some focus to feel secure.
If you're one of the many who like to give your dog a gift at holiday time to make her feel good or simply to express your love for her, here are some novel ideas for presents that can really change her life. Ranging from $12.95 on the low end to $225 on the high end, they offer everything from immediate gratification to long-term benefits. Happy shopping!
Casper Dog Bed is the bed dogs dream of, and on. Most dog beds — let's face it — are little more than fluffy mats with no real support. This one, just like Casper beds for people, is made of elastic memory foam so it molds to your dog's body and then releases when your pet gets up, so she never ends up with a sagging mattress. Terrific for dogs with sensitive pressure points from arthritis or other painful ailments.
The bed arrives at your door in a cardboard box from which the foam construction bursts forth once the package is opened. And it comes with a bed cover of nylon, polyester, and olefin that can be washed on the gentle cycle in cold water and then tumble dried on a low setting. The best part: if the bed's not right, you can return it for up to 100 days (two dog years, the company points out), slobber and all. You don't even need the original box; they will come and take it from you. Available in blue, sand, and gray in small (26″ x 19″ x 6″ for dogs weighing 30 pounds or less), medium (33″ x 25″ x 6″ for dogs weighing 60 pounds or less), and large (45″ x 35″ x 7″ for dogs weighing 90 pounds or less). Cost ranges from $125 to $225. Free shipping. Visit casper.com/dog-beds/.
Dog Bowl Water Bottle removes the hassle from hydrating your thirsty dog when you're out walking together. Many dogs don't like drinking out of a bottle, so people have to bring along both a container for the water and a bowl to pour it into for easy lapping. This gizmo combines an easy-to-bring-along water bottle and a small attached dish that fills with the liquid when you squeeze the container. You hold the bowl at whatever angle your dog finds most comfortable, and when she's finished, simply release your squeeze. Whatever water is still in the dish flows back into the bottle for later use. The bottle's adjustable velcro strap can be attached to your belt, backpack, or wrist. BPA-free (free of bisphenol A — a chemical in plastic considered toxic), the bottle also fits into standard car cup holders. Comes in gray or blue for $15.00.
Available at uncommongoods.com/product/dog-bowl-water-bottle
Brite Bite Brushing Stick will keep your dog from even knowing she's having her teeth brushed. She'll just think she's playing with a toy and getting a treat at the same time. Made from rigid bristles your pet will enjoy chewing on, with grooves into which you can place the toothpaste flavor of her choice, this dishwasher-safe rubber brush has bristles that wear down plaque and help remove tartar even from hard-to-reach spots such as the back of your dog's mouth. Best of all, your dog will be brushing her own teeth while you can just sit there and look pretty (or handsome). The base of the sizable dental brush has a wide bottom with paw holds on either side that your dog can press down on to hold the brush in place while she goes at it.
As with all toys that your dog can chew on, make sure you're present for brushing sessions, which should last up to three minutes. And remove the toothbrush if any of the parts have come off or appear to be wearing down and replace with a new one. The stick comes in three sizes: small for dogs ranging 5 to 14 pounds (4.5″ tall x 1″ wide x 3.25″ base, 5.6 oz.); medium for dogs 15 to 44 pounds (5.75″ tall x 1.25″ wide x 4″ base, 8 oz.), and large for dogs 45 pounds or more (7″ tall x 1.5″ wide x 5″ base, 14.4 oz.). Costs $12.99 to $19.99. Visit iheartdogs.com/product/brite-bite-brushing-stick/. A pet toy is donated to a shelter for each stick purchased.
Wisdom Panel DNA Test offers genetically verified breed and health information about your dog that can answer myriad questions about her behavior and medical issues. Made by Mars Veterinary, the DNA test touts the world's largest breed database and also screens for more than 150 genetically-based health conditions.
Knowing your dog's breed — or breed combinations — can explain so much about her behavior. Maybe the reason she's willful, for instance, is that she has terrier in her you never knew about. You'll learn, too, whether she's among the 10 percent of dogs who are purebred, or a Heinz 57, or part wolf or coyote. The test also provides information about your dog's drug sensitivities to 15 common medications.
You can choose from two kits. For $84.99, the Wisdom Panel 4.0 Canine Breed Detection identifies more than 250 breeds, varieties, and types; tests for drug and exercise issues; and offers behavioral trait analysis. The more comprehensive test, the $149.99 Wisdom Panel Health Canine Breed + Breed Detection, does all that the previously mentioned kit does but also screens for more than 150 genetic health conditions. Once you receive your kit in the mail, swab your dog's cheek to gather sufficient DNA for testing. Then activate the kit on the online site and send it back with pre-paid shipping.
Your dog may not get the meaning of this gift on Christmas morning, but if you learn, for instance, that she is part-something that requires a lot of exercise to feel fulfilled and then follow through, she'll end up happier for it over the long run. Visit widompanel.com.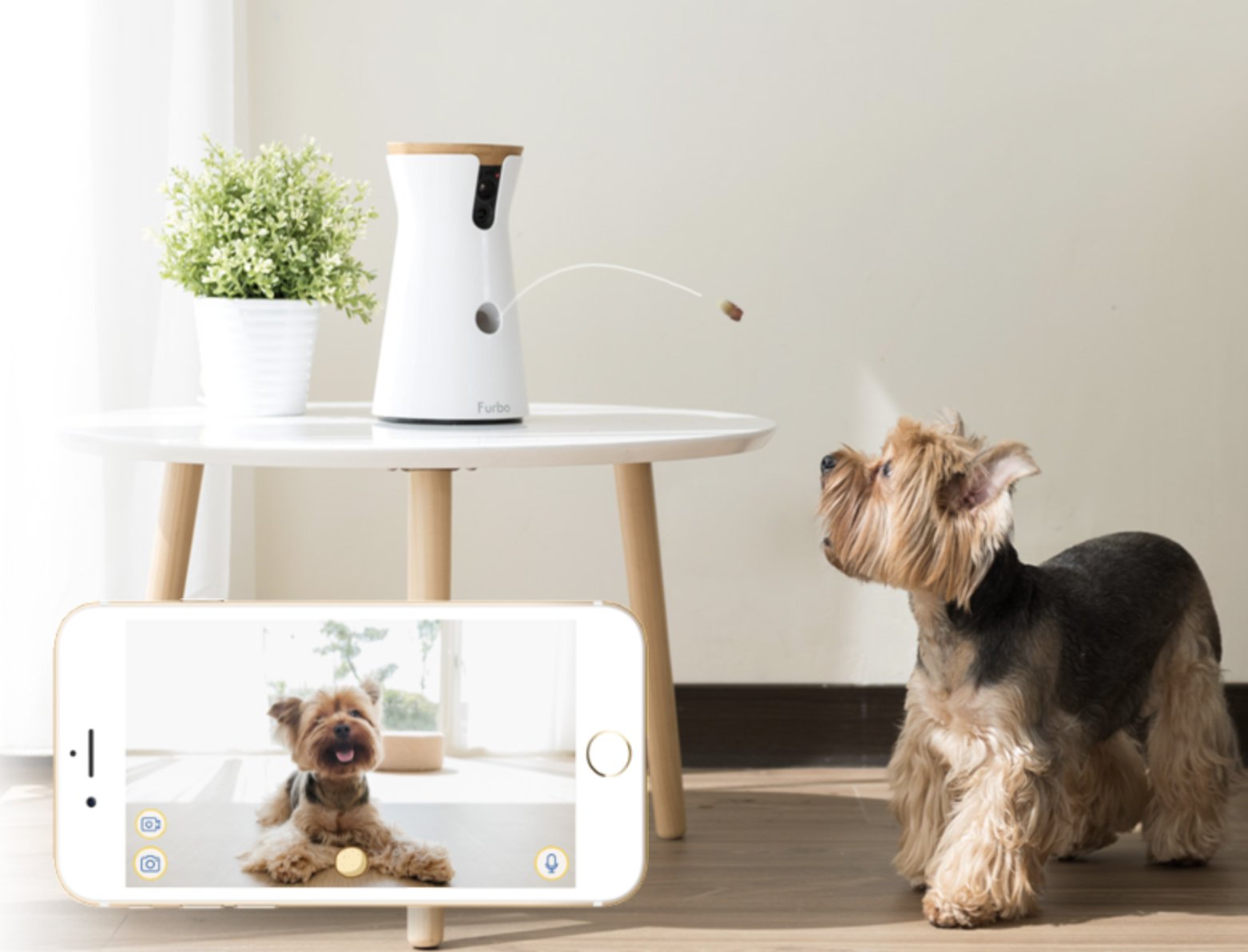 Smart Pet Love Snuggle Puppy Behavioral Aid Toy is a great aid for anxious dogs who could benefit from a little extra TLC. A plush dog that, via insertable tools, mimics the heartbeat and body warmth of another pup, it works with two AAA batteries that keep the calming and soothing heart and pulse going for two weeks, even with non-stop use.
The toy comes with an insertable "heart" and non-toxic, disposable heat-source packets that last 24 hours. (Hand warmers can be used in place of these.) And though the plump plush works well to reassure puppies and make them feel that they are with one of their own, it also works well for older dogs who feel anxious and need soothing to help calm their barking or whining or overall discomfort. The plush can be machine washed on the gentle cycle and comes in brown, pink, black, biscuit, brown and white, and golden. Costs $39.87. Available on Amazon.com.
Furbo Treat-Tossing Dog Camera will let you make sure your dog is never truly alone, even when you can't be home with her. The WiFi Pet Camera with two-way audio lets you check in on your dog throughout the day, whether it's to see why she's barking, to communicate through the two-way chat system, or to virtually toss her any number of the 100 treats the Furbo holds. It all happens by way of your Smart Phone.
The camera provides a 160-degree wide-angle view and can show you your dog's activities at any hour you opt to livestream because the gizmo also has night vision. You and your pet will both be reassured by your intermittent check-ups to see if she is doing okay. If she's not, you can comfort her with soothing words and a treat or two even though you're at work or running errands. Furbo also alerts you to your dog's activity level, picking up on jumping or chewing on things that might pose a risk.
Your dog may even come to understand that gazing into the camera is a way to reach out to you. She might not be aware that she's sending you a "selfie," but she'll get it that she's alerting you to the fact that she wants attention from you. You will be able to see, too, if others have arrived home or even if an intruder is present, all by periodically checking in.
Technophobes, rest easy. The three-step process of setting up requires only plugging in the USB cord, downloading the Turbo app, and connecting it to your home's WiFi. Costs $194. Available on Amazon.com and other sites.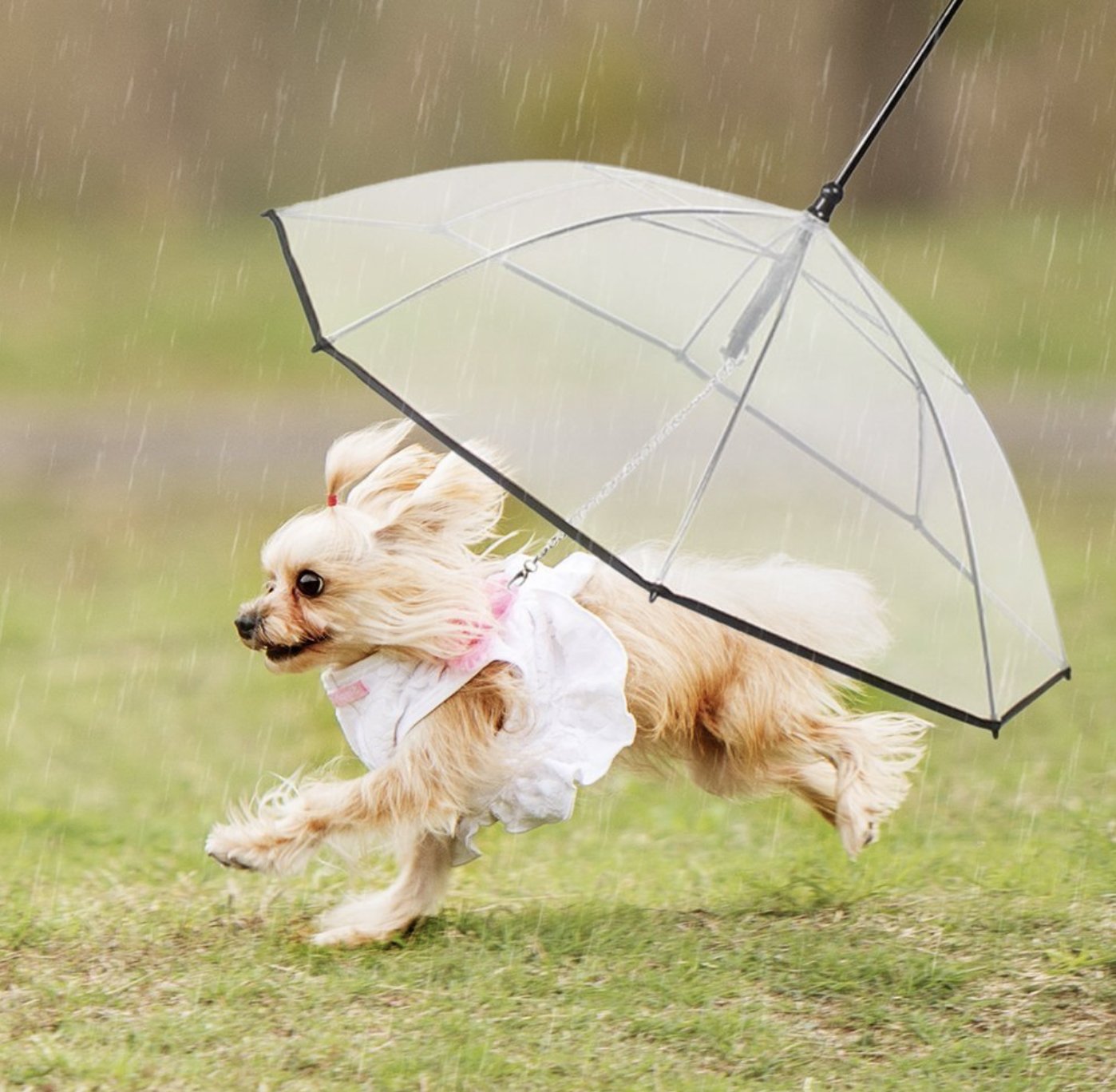 NiceHyacinth Dog Umbrella With Leash lets you keep your dog dry despite rain, snow, or sleet, and without the restricted movement imposed by a doggie raincoat. The polyvinyl material allows you to see your pet while she's covered and vice versa.
The umbrella is particularly helpful for dogs who have difficulty relieving themselves in inclement weather. And it's a nice boost for you to not have to towel down your pet to the same degree as you would without the covering. The 20-inch umbrella has a built-in leash that attaches to your dog's collar. While this works best for smaller dogs, it'll still help keep even large pets significantly drier and more comfortable than they would otherwise be. Costs $15.53. Available on Amazon.com.