When you reach for the leash, do you find your dog's eyes conveying an emphatic "yes!" but his body leaning toward "no?" Has his nighttime routine of sleeping in your bedroom shifted so that he stays downstairs, or does he have trouble jumping into the car even though he loves going for rides? Old age often brings aches and pains, as do arthritis and other degenerative diseases that make walking — and simply going from lying down to standing — downright painful. But a simple harness can make all the difference, allowing walks to become manageable and even pleasurable once again.
Dog harnesses are essentially slings that wrap under your pet's belly and up around the rib cage. You hold them up with handles, meaning that you're providing some support for your dog. Pulling up on the handles attached to the sling lets a little of your own oomph compensate for the dog's weakness, helping him shift to a standing position or walk with much more ease. The concept is so simple you can even make your own: Cut out the side panels of a cloth shopping bag, leaving only one continuous strip, handles still attached, that can be tucked under your dog's belly. It can be a great help if your dog has a temporary strain or is healing from surgery.
But if you need something with more durability and adjustability, there are a number of commercial harnesses available. Some of them even take pressure off specific areas of a dog's body where he might be experiencing pain upon movement. Here's a look at some of the better ones out there.
Labra Dog Support Sling slips around your dog's midsection and lightens the load of his own body weight when you hold him up with the attached adjustable handles. It's made of 3-mm neoprene for combined flexibility and sturdiness and is easy to put on and take off. Comes in black in sizes M to XXLarge, for $27.95. Available on chewy.com and labradog.com.
Gingerlead Dog Support & Rehab Sling Harnesses, an Amazon Choice product, is padded for extra softness against your dog's belly. An inner corduroy lining adds more comfort still. Comes in black in sizes XS to L, and also available in Tall female and Tall male, from $35.95 to $65.95. Available on amazon.com and gingerlead.com.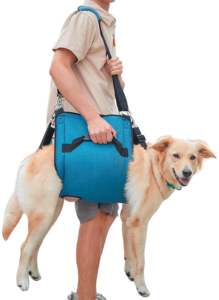 COODEO increases the strength and even portability you bring to the situation by allowing you to move your dog along and even lift him slightly by putting the handle over your shoulder when necessary. This soft, washable, adjustable, and breathable dog lift harness comes in sizes XS to XXL, from $30.95 to $39.99. Available on amazon.com, petshopia.net, postmark.com, and others.
PET FRIENDZ Dog Lifting Harness for Front and Rear Legs supports the hips while providing a lift to dogs with issues both in their fore and hind limbs. Comes in gray with black straps and handle in sizes S to XXL, all for $16.95. Available on amazon.com.
Walkin' Hip-EEZ Dog Hip Brace Support Harness System is a good choice for dogs with hip issues such as hip dysplasia, a genetic trait defined by an abnormal formation of the hip socket that can lead to arthritis and subsequent lameness. The support brace not only allows you to lift your dog but also offers compression, which helps to reduce hip pain whether your pet is walking or at rest. Dogs may take two to four weeks to become accustomed to the brace. Comes in black with green reflective stripe in sizes S to XL, for $152.95. Available on amazon.com, walmart.com.
LOOBANI Portable Dog Sling for Back Legs provides an easy mobility solution for problems ranging from surgery to injuries to hip dysplasia, and the sheepskin-like lining keeps the harness soft around your dog's belly. Machine washable. Comes in black with a black reflective stripe in sizes S to L from $21.99 to $24.99. Available on amazon.com and chewy.com.