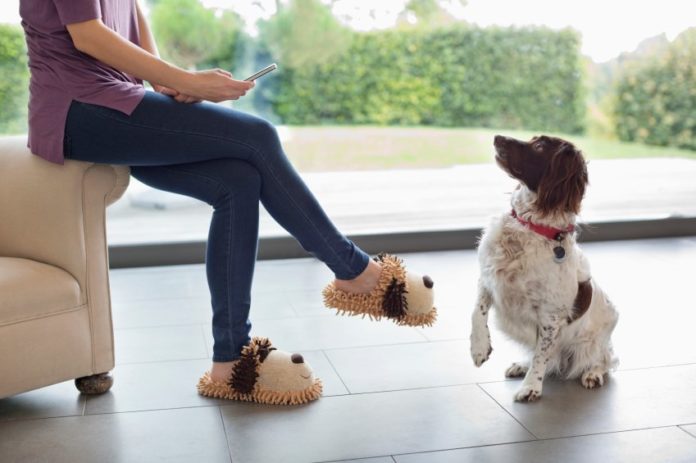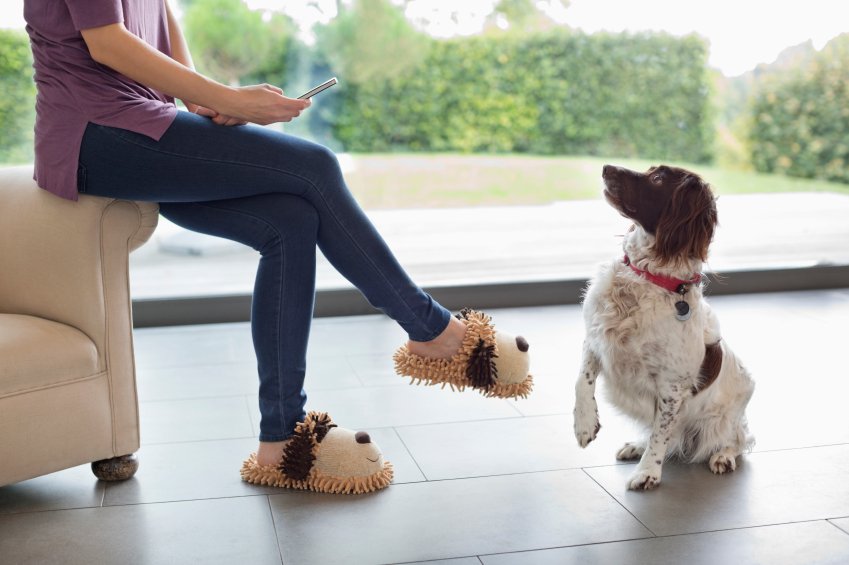 Whether you're looking for a playgroup, rubber booties, or an interactive game for your dog, or perhaps even looking for your dog himself, there's a mobile app for that — and so much more. Even better is that many of the apps that make life better for your canine companion can be downloaded to your iphone or Android phone for free or, at most, a few bucks. Below is a sampling of some of the best apps available that can assist you in making your dog's life safe and fun.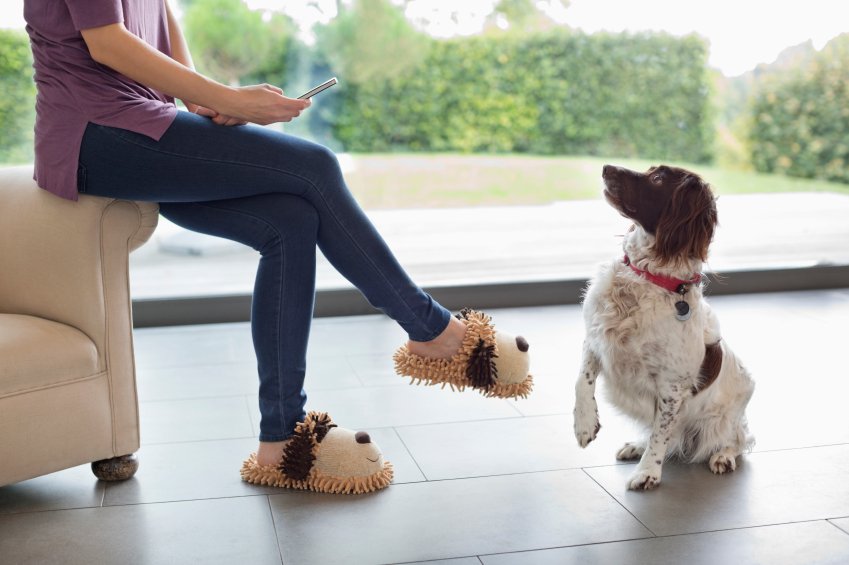 isqueek
It takes only a press of the finger to elicit a unique squeak sound from any one of the 18 virtual toys found on the Harry Apps, LLC iSqueek app. Each "toy" produces quick or lengthy sounds, depending on how long you press your finger, amusing your dog — and you — for at least a while.
(iOS 3.0 or later; iPhone, iPad, and iPod touch compatible. $1.99)
Pet Acoustics
Why should humans be the only ones to develop a music list? Dogs have an appreciation for music, albeit in their own way, and Pet Acoustics, produced by Pet Acoustics, Inc., is said to provide music that suits their sensory preferences in volume, rhythm, and more. The manufacturer avows that this program will "calm and soothe your pet anytime, anywhere." The music is the creation of composer Janet Marlow, whose audiences range from horses to cats and even humans.
(iOS 3.1.2 or later; iPhone, iPad, and iPod touch compatible. $1.99)
Your Dog Has Game
This interactive game you play with your dog, produced by Airship Software LLC, is actually three games in one. "Squeaky Spot," "Squirelly Sam," and "Couple o' Cats" all conjure the objects and furry creatures your dog can chase in virtual reality. Though it's you who actually plays the game, reviewers say that the sounds attract and hold the attention of your dog, allowing both of you to enjoy the shared experience.
(iOS 4.3 or later; iPhone, iPad, and iPod touch compatible. $0.99 per individual game.)
iCam
Whether it's parking himself on the verboten couch or digging through wastebaskets, knowing how your dog is spending his hours while you're away from home can bring some comfort — or grief, depending. One way to keep an eye on Fido in real-time is with SKJM LLC's iCam app, which allows you to watch your dog remotely and know how he's faring while you're away from home. It's also useful for watching the human kiddies around the pool for safety and, for an added sense of security, keeping track of the front door and other areas of your home.
(iOS 5.1 or later; iPhone, iPad, and iPod touch compatible; optimized for iPhone 5; also available for android phones; Windows XP/Vista/7/8 compatible; $4.99)
Tagg
This SnapTracs, Inc., app provides round-the-clock monitoring of your dog's movements not via a camera but through GPS tracking. Part of its usefulness is that it alerts you — via a programmable GPS attachment for his collar — if your pet has gone outside the safety parameters you have pre-set. This benefit extends beyond what microchips can do because the GPS doesn't require someone finding your dog, catching him, and bringing him to a veterinarian to read the chip. The GPS can help reduce the time that might be lost in reuniting you and your dog by leading you right to his location.
(iOS 4.0 or later; iPhone, iPad, and iPod touch compatible; also available for android phones, 2.2 and later; free)
PetTech PetSaver
The PetTech PetSaver app from Jaargon, Inc., provides a wealth of useful information for your dog's well-being: how to administer medications; what to keep in your first aid kit; a dozen procedures you should know, ranging from CPR to bleeding protocols; and a list of categorized images and descriptions of items that are poisonous and hazardous to your dog and other pets. Pictures and a narrated audio file provide sequential directions.
(iOS 6.0 or later; optimized for iPhone 5; iPhone, iPad, and iPod touch compatible. Also for Android, 1.5 and more; and Windows 7 phones; $4.99 on pettech.net; $3.99 on itunes.apple.com)
Dog Whistler
Training your dog with a whistle is made easier with this Mobeezio, Inc., app that offers whistles of varying frequencies to suit your dog's preferences, upping your chances of preventing car-, bicycle-, critter-, and jogger-chasing that could lead your pet into unknown territory or worse, a busy road. Having the app conveniently on your phone also means you don't have to remember to bring a whistle along for your excursions. An added bonus: the app has an alarm system that can be pre-set, creating an unappealing whistle in an area of the house you may want to keep your dog away from.
(iOS 5.0 or later; iPhone, iPad, and iPod touch compatible; optimed for iPhone 5; free)
Pet First Aid by American Red Cross
The American Red Cross's Pet First Aid app provides videos, step-by-step instructions for emergencies, and interactive quizzes to keep you prepared for any number of pet emergencies. Advice on administering medications and noticing early warning signs of illness or poisoning are delivered via images, videos, and text. The app also allows you to keep multiple pet veterinary records and provides lists of local emergency veterinary facilities and pet-friendly hotels in your area.
(iOS 6.0 or later; otpimized for iPhone 5; iPhone, iPad, and iPod touch compatible; Android 2..3 and up; $0.99)
Pet Poison Help
Pet Poison Helpline's Pet Poison Help app advises dog owners about symptoms for 250 toxins, their seriousness, whether or not to induce vomiting, and access to a 24/7 poison hotline (be advised that the Pet Poison Helpline's web site states that there is a "$39 per incident fee" per phone call). The app also allows you to look up safety information for cats, horses, and more.
(iOS 4.3 or later; iPhone, iPad, and iPad touch compatible; not available on Android; $1.99)
Finding Rover
This app registers your dog's face, via the photo you provide, along with your contact information, so that if your pet is lost, the photo can be put out there for others to see and can also be compared to found dogs, hopefully setting in place a quick reunion between you and your canine loved one.
(iOS 6.0 or later; optimized for iPhone 5; iPhone, iPad, and iPod touch compatible; free)
Pet Supplies
Pacific Spirit Media's Pet Supplies app organizes your at-home shopping experience, making it easy to purchase already considered items from multiple retailers in one fell swoop, all from the convenience of your favorite chair. Treats, accessories, and food can be bought after searching for the lowest prices and receiving coupons for leading retailers such as PetFoodDirect.com, Petco.com, and Dog.com.
(iOS 4.3 or later; optimized for iPhone 5; iPhone, iPad, and iPod touch compatible; free)
Petcentric
Nestle Purina Petcare Company's app allows you to search for pet-welcoming hotels and eateries in your area. Sitters, groomers, kennels, animal shelters and more are also available on this app, as are current and popular videos, photos, and news stories about pets.
(iOS 4.3 or later; iPhone, iPad, and iPod touch compatible; available for Android; free). n