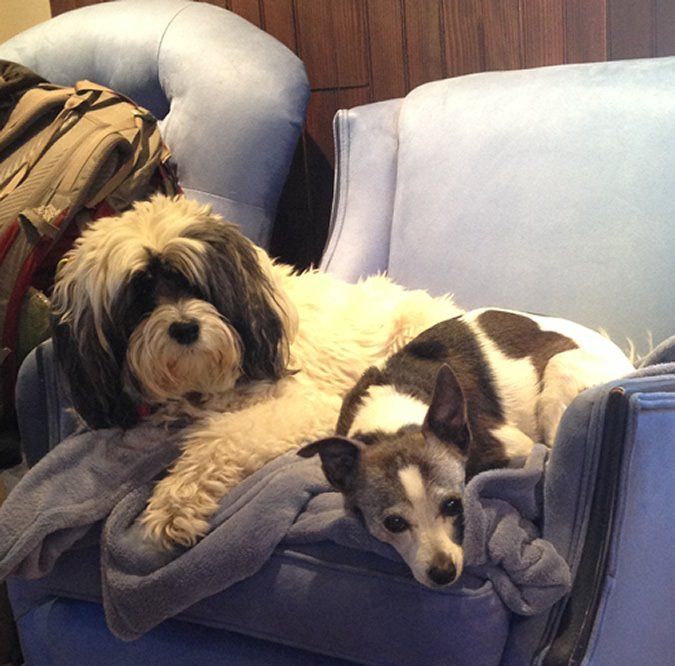 "Initially, in partnerships between people and dogs, dogs weren't locked up in houses alone," the Head of the Tufts Animal Behavior Clinic, Stephanie Borns-Weil, DVM, points out. "They got to go with people everywhere. They and their human companions were always together." Even less than 100 years ago, many companion dogs did not sit in the house until they were walked once or twice a day but were allowed to roam the neighborhood on their own, with fewer cars on local roads to threaten their safety. Today, the opportunity for dogs to socialize is in many cases greatly diminished. Thus, the decision whether to bring home a second dog is often a decision between no companionship for most of the daylight hours and constant companionship.
And "because dogs are highly social creatures," Dr. Borns-Weil says, in most cases, "getting another dog is the right thing to do. Dogs in isolation are not happy." Even if you are home with your dog much of the day, a second dog in the family might very well be the right choice.
"I believe that dogs in general are happier with other dogs," the doctor posits. "It's hard on social creatures not to live with their co-species members." Indeed, it would not be fun to live with very loving dogs but not have other people around.
But how do you choose? And in which cases would it not be a good idea to bring a second dog into the home?
Hastily Picking a Second Dog Can Lead to Personality Clashes
"I've always had dogs in pairs," Dr. Borns-Weil says. Yet some of those pairs did better together than others. For instance, at one time there was Lucky the male hound mix and Patches the female Tibetan terrier. And they got on famously. They shared toys, played and barked together, and would lie side by side on a mat eating Greenies. Lucky really relied on Patches during walks. He was fearful of city sights and sounds, and Patches would remain close to him and if needed, lick his ears for support. "Patches was clearly lonely after Lucky died," Dr. Borns-Weil says, "so I brought home Dobby," a rat terrier mix. "But Patches never really bonded well with Dobby.
"They'd stay together on the bed, they'd back each other up. But when Patches died and I brought home Koshi [a Doberman] for Dobby, I saw anew what closely bonded dogs really look like. They chose to sit in the same place, cuddle up together. It was so sweet. Dobby would sit in Koshi's lap. When Koshi was dying [prematurely, from bone cancer], for the last three weeks Dobby never left his side.
Why is it so hit-and-miss? One reason, says Dr. Borns-Weil, is that often, "you get a second dog because somebody needs to find a place for a dog, and you quickly find a way to make it work" for the dog you already have. That's what happened with Doberman Koshi. "Koshi was originally my sister-in-law's dog," the doctor says. In the meantime, "my mother-in-law had adopted a rescue dog who was not adapting well to the urban setting where she lived. She was getting more and more aggressive toward people, and my mother-in-law found it difficult to desensitize her in the urban environment, where she could not control contact with people. So that dog went to live with my sister-in-law in rural Pennsylvania. And Koshi, who had a hard time getting all the cuddling he wanted in my sister-in-law's multi-dog home, came to live with Dobby and us." In that case, it worked out very smoothly, but it doesn't always, even if it's not an emergency situation.
Consider that a lot of people take their dog to the shelter to look for a second one, in the hope that bringing along the first pet will allow for that dog's input and, ultimately, a better match. But it's a form of speed dating, Dr. Borns-Weil says. It's hard to tell from one, or even two or three visits to the shelter, whether two dogs will do okay together over the long run.
"When I wanted to get a new dog for Patches," Dr. Borns-Weil notes, "we went to the shelter, and I made a short list of dogs that I liked and that she liked. We chose Dobby, and it turned out that when I got them home, it wasn't the best match. Patches would never have 'popped the question' if she and Dobby had gone on more dates.
"A dog might enjoy another dog initially," she says. But the two dogs may not display their full range of behaviors in that situation, and they have to make a quick decision based on initial impressions. We're layering our own best judgment over that to create what is essentially an arranged marriage that may or may not work to best advantage."
Dr. Borns-Weil doesn't regret bringing Dobby home, and she doesn't think Patches regretted it, either. "They were co-dogs, and they did okay," she says. Patches wasn't left by herself in the house all day, and Dobby was given a forever home. Dobby just wasn't able to break through Patches' independent nature.
Given the unknowns of putting two dogs together forever after just a short meet-and-greet or two, is there anything people can do to increase the chances the two pets will at least feel okay about each other, making the addition of a second dog a net gain instead of a net loss for dog number one? Absolutely.
One thing to keep in mind is that two dogs in the same household almost always work it out; their social natures just won't let it play out any other way. Second, it's not all about chemistry. There are some good rules-of-thumb to apply.
What We Know About Adding A Second Dog
While you can be reasonably sure when bringing home a second dog that your first dog will be better off for the company but never certain just how well it's going to work, following the three rules here will increase your chances of a better pairing.
1. Generally speaking, don't shoot for female-to-female. It isn't that two female dogs never get along. In fact, it's not common for two dogs of any gender to fight if they live in the same household. But two different studies have shown that fighting dogs are more apt to be both female. Mixed gender sets or neutered male-plus-male is more likely to work, Dr. Borns-Weil says.
2. Activity similarity is more important than breed similarity. "Breed similarity helps to the extent that there are behaviors more common to some breeds than others," Dr. Borns-Weil says, so two dogs will likely "get" each other. But when pairing dogs, "breed" is really only important as a marker for activity levels and proclivities. "It helps to have dogs with similar exercise capacities and who like to do similar things," she remarks. A dog who's something of a slug and a dog who likes a lot of activity may have some challenges finding common ground.
At least as important, it can be harder for you if you have two dogs with different interests and different ideas of a good time. Having a dog who likes to romp through the woods for an hour or more and a dog who simply enjoys playing fetch for 10 minutes and then just wants to sniff some bushes before going back to the house means you're going to have some difficulties satisfying the instincts of both. It makes catering to your two dogs' needs more time-consuming.
3. Similar age doesn't matter as much as similar health status. A lot of people suppose that it's important that the second dog be around the same age of the first. Or, conversely, they wonder whether bringing a puppy or fairly young dog into the house will revitalize an older dog. But rather than resting the choice of a second dog on age, Dr. Borns-Weil suggests resting it more on what your first dog is up for. For instance, she says, "an older dog can get revitalized by the introduction of a younger dog, but only if the older dog is not so sickly or slow that a young dog would just become a stressor." You cannot turn an arthritis-ridden pet in pain into a frisky young one just because a new dog brought into the household has energy to burn.
"I once had a dog, Otis May, with severe hip dysplasia," Dr. Borns-Weil recounts. "This was before the days of total hip replacements. When her canine companion died, I got her a tiny companion because she could not tolerate rough and tumble."
How to Help Your Dogs Get Along
There's a lot that goes into how you introduce a new dog into the household that will influence how your first dog takes to his new "sibling," Dr. Borns-Weil says. "Oftentimes," she remarks, "everybody's really excited about the new dog and wants to give it all this extra attention." And the new pet does need to be treated kindly in order to become acclimated to the household. "But the old dog can feel kind of pushed to the side, and that can strain the relationship between the two of them," the doctor points out.
The way to avoid that is as follows: when you bring the new dog in, err on the side of giving priority access for everything to your first dog. "Let them know they're your number one dog," Dr. Borns-Weil says. They should be fed first, petted first, given treats first, and so on. It also helps to have a good solid rule structure for both dogs so everyone is clear about what happens when and under what conditions. The command-response-reward program, in which the dogs must obey a simple command such as "sit" before receiving valued resources, is an excellent way of obtaining the needed structure.
Over time, she says, the dogs will work out for themselves what really matters to each of them. They will determine amongst themselves who has priority access to which resources. For the dog who was there first, food may be the most important thing, so always, that dog's bowl should be filled first. But for the newer dog, it may shake out that it's more important to be stroked along the muzzle first or given a beloved toy first. That's okay. You'll learn by watching, over months and maybe even the first year or two, what counts most to each.
This is how dogs determine dominance, by the way. Dominance for them is not about a fixed hierarchy but, rather, is a shifting phenomenon tied to which valued resources have the most meaning in each situation. That is, dogs make peace by giving in when something is really important to the other one, not by choosing who's top dog in all situations. They are much better diplomats than we are, never making a wholesale grab for status.