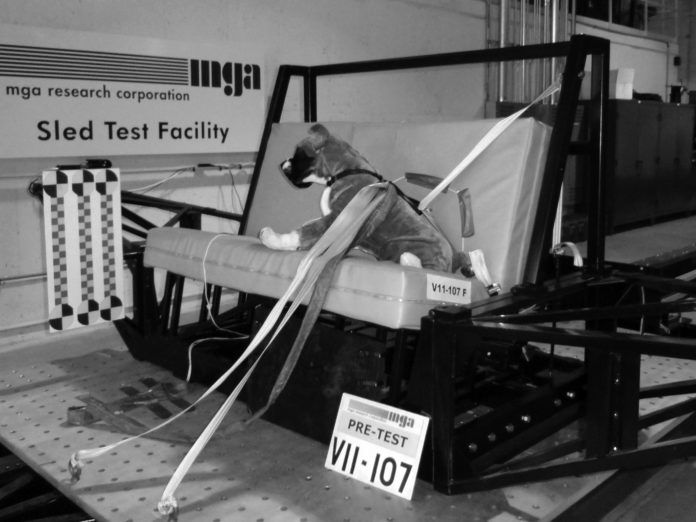 Bad news. There's a reasonably good chance that even if you buckle your dog into a harness or other safety apparatus before taking a car trip, he's not really any safer than he would have been otherwise. The Center for Pet Safety made the discovery when it tested four different automotive restraints. All were intended for large dogs weighing 50 to 85 pounds, such as standard poodles, German shepherds, Irish setters, Labrador retrievers, boxers, and Weimaraners.
"Alarmingly," says the center, based just outside of Washington in Reston, Virginia, the testing "revealed 100 percent failure rate. " None of the harnesses were deemed safe enough to protect both the dog and people in a car in the event of a collision in which the car would be going 30 miles an hour — well below highway speed. Potential problems revealed with the crash test dog dummies:
– Extremely low likelihood of survival for the animal.
– Danger to humans when the dog becomes a missile.
– Choking or other bodily harm to the animal when harness materials cinch too tightly upon contact.
– Extensive damage to fixtures within the vehicle caused by the projectile animal.
You can watch videos of the simulated car accidents at centerforpet safety.org under the "research" tab. But viewers are warned that the video content "may be disturbing and is notfor children."
The news of the failure of safety restraints is particularly disturbing in view of the fact that some manufacturers say they test their products. But therein lies the problem. There is no standard for testing this class of product. (For its own study, the Center for Pet Safety used the Federal Motor Vehicle Safety Standard 213 used to test child restraint systems.)
To begin to correct the problem, the Center for Pet Safety has teamed with Subaru to develop standards for automotive canine safety harness systems. From there, pet product companies will have a clear benchmark for their harnesses' quality. Right now, the only products intended for dogs that must adhere to strict standards are items dogs consume, mainly foods and medicines.
Pet product manufacturers, for the most part, are glad that standards are being developed. They want clear criteria and protocols for making sure their seat belts for dogs keep both animal and human passengers safe. A 60-pound dog hurtling through the air at 35 miles an hour exerts a pressure of 2,700 pounds upon hitting an object — or another passenger — according to statistics released by an online resource for automotive information called Edmunds.com and cited by the American Animal Hospital Association.
In the meantime, says Center for Pet Safety founder and chairman Lindsey Wolko, consumers can get some help in assessing the safety of their car harnesses for their dogs by taking the following steps.
1. Look for start-to-finish crash test videos. You'll find these posted on places like the manufacturer's website or YouTube. You want to be able to see the test in its entirety.
2. Ask the manufacturer what weight was used to simulate the dog. Most manufacturers use only a 30- to 35-pound simulant. (Since the Center for Pet Safety released its original findings, manufacturers have begun working to test higher weights.)
3. Ask the manufacturer what speed is represented with the crash testconditions. Most tests are conducted at 30 miles an hour, which is the speed at which the Center for Pet Safety conducted its own tests.
If the manufacturer doesn't want to answer your questions, says the Center for Pet Safety, "keep shopping until you find one that is proud of the testing they have completed and are willing to share it with you. Remember, telling you that they have tested is different from showing you they have tested."
The center's Ms. Wolko got into this, by the way, because of an experience with her own English cocker spaniel, Maggie. "Maggie wandered around the car when we traveled," she says, "so I put her in a harness, thinking that as a consumer I was doing everything right. But I had to slam on the brakes on I66 [in the D.C. area], and she went flying. What I hadn't realized was that because her tether wasn't adjustable, it wrapped around her back legs. She was hog-tied, but it didn't keep her from becoming a projectile. She slammed into the back seat and sustained hip and back injuries — a strained spine and strained hips that kept her from being able to walk up the stairs for a while and necessitated pain killers."