If you bathe your dog at home and are more than a little acquainted with sopping towels, shake-offs that spray water everywhere, and several hours of wet-dog smell, there's a solution. Use a hair dryer designed just for dogs that comes with adjustable temperature and air volume settings as well attachments to fluff and dry your pet without burning her or hurting her ears. They can literally blow water particles off your pet's coat rather than use a lot of heat that might harm her skin (dogs have thinner skin than we do) and also keep down the whirring. And they can do it relatively quickly.
The options are not necessarily inexpensive, but they certainly add up to savings when compared with trips to professional groomers. Furthermore, they will take care of every dog from curly-haired poodles to long-haired Afghans. Read on for suggestions.
The Flying Pig Grooming High Velocity Dog & Cat Grooming Dryer gets the job done without more heat than a dog can handle while blowing off loosened fur. This dryer comes with two air settings and two nozzles. It's ideal for large dogs or those with thick undercoats, although its settings feature also allows it to be used on
smaller dogs (and even cats, if they'll let you get near them after the bath). A removable filter helps manage lint while also prolonging motor life. Note that a high-velocity machine might produce more noise than seems right for a sensitive dog, but the dryer's flexible 10-foot hose can help create some distance between your pet and the drone of the canister engine. Additionally, an airflow knob can be adjusted to lighten the imp
act for dogs that are extra-sensitive to touch. Available in pink, purple, or green for $172 on amazon.com, chewy.com, and other sites.
iPettie Upgraded Pet Hair Dryer manages drying and untangling in one step because of its stainless steel brush (with soft pins). The metal machine with a plastic handle is narrow enough to hold in one hand as you use the brush end with airflo
w to make your way through your pet's wet fur. Available in white, blue, and pink for $29.99 to $34.99 on amazon.com.
Shelandy 3.2 HP Stepless Adustable Speed Pet Hair Force Dryer provides airflow at a powerful range of 65 to 135 miles per hour and can be modified to tend to large or tiny dogs. It also shuts down power in half a second if overheating. The dryer comes with a 6-foot flexible hose, and one of the four attachable nozzles is a comb that can help with detangling while circulating air. Noise reduction features keep sound somewhere between the volume of a hand dryer and a vacuum — quiet enough for some dogs but perhaps not those with noise phobia or particularly sensitive ears. Available in blue or pink for $79.00 on amazon.com.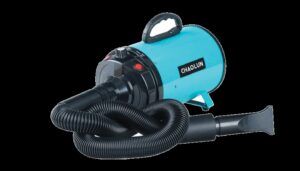 Chaolun High Velocity Dog Hair Dryer offers a 7-foot hose, separate dials for adjusting velocity and heat settings, and three attachable nozzles that widen or narrow air flow so you can target specific spots if you want. The machine comes with a comb and a pet grooming glove to untangle and smooth as you dry while also helping draw out loosened fur. The removable and cleanable filter helps dispose of debris; it muffles noise, too. The canister dryer can be hand-held or placed down on its anti-skid bottom. Available in blue, pink, or white for $77.99 to $89.99 on amazon.com.
DUZ Hands-Free Dog & Cat Grooming Dryer might be just the thing for those who prefer to interact with their pet with both hands while drying. That's because it can remain stationary while it does its work, freeing you to connect with your dog; the drying tube can be adjusted to reach her wherever wet spots persist. The fans have three settings and the heat, four. You can keep the dryer in place with a wall mount attachment if you'd like. Available in white for $219.99 on chewy.com, amazon.com, and petco.com.