"Well, first of all it's convenience," says Elizabeth Trail-Burns. It's about 9:30 on a recent, sunny Friday morning, and she is responding to a question put to her about why she has her pets see a veterinarian who brings his office-in-a-van to the curb outside her house in Pawtucket, Rhode Island, rather than take them to the doctor's office. No clarification is necessary. She has her six-year-old twins, James and Paige, in tow while her two dogs undergo routine annual exams and her orangey tortoise-shell cat, Peaches, is readied for dental surgery.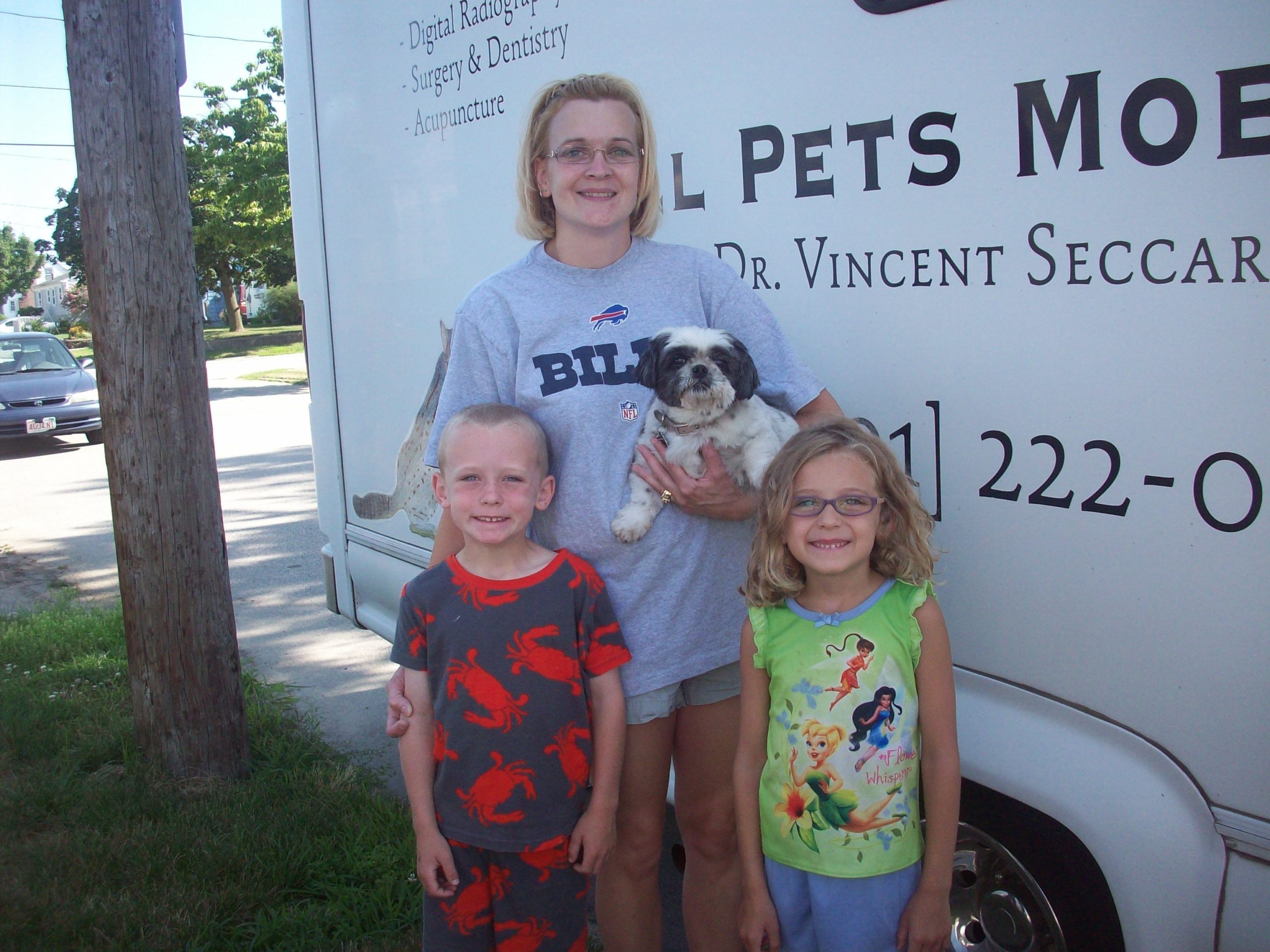 The veterinarian, Tufts Cummings School graduate Vincent Seccareccia III, DVM, has pre-medicated Peaches with a drug that does double duty as a mild sedative and painkiller prior to her anesthesia and is waiting for the medication to kick in while he examines 7-year-old shih tzu Sophie (she has an ear infection and will need antibiotics) and then 3-year-old golden retriever/Lab mix Haywood, who requires vaccinations.
Veterinary technician Helen Crossley brings each animal in and out, one at a time, providing the cuddly touch as Dr. Vinny, as his clients call him, administers shots, checks heart rates, weighs the animals (tiny Sophie has gained a pound and will need some dieting), and puts their blood in a machine that spins and then analyzes it. Space in the mobile office is at a premium — x-ray table, operating table, sink, cupboards and drawers filled with medicines and supplies, a cage. It's why each animal is seen solo. That's fine with Haywood in particular, who doesn't like vet visits. They're not Sophie's favorite pastime, either, which is the other reason Ms. Trail-Burns has Dr. Vinny come to her rather than travel with her dogs to a veterinary office. "This way they don't have to endure the car ride and then the odor going into the vet's office," she explains. "And at least they're in the house while they're waiting for their exam and not in the waiting room. They're nervous enough at the vet's." It's for that reason that she's willing to pay 10 to 15 percent more for the base visit than what she'd pay by taking her pets to the doctor's office — their piece of mind as well as her own.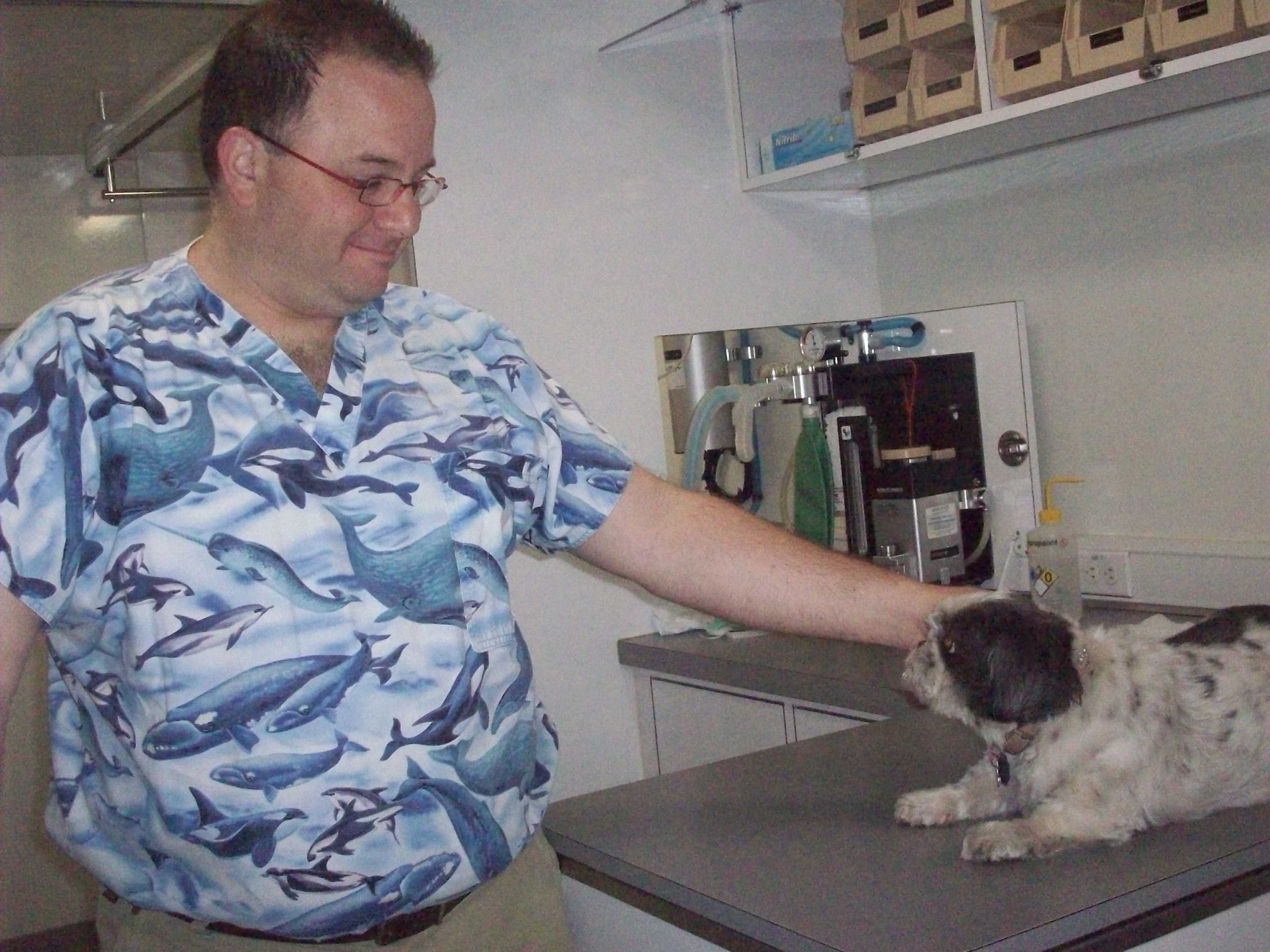 "Sophie's blood work looks good," Dr. Vinny says once the machine spits out some numbers, although he's not happy with a little white spot in her eye. "Is that the same as last time?" he asks Ms. Trail-Burns. "It looks a little bit worse. I'm going to check it for a scratch." But it's fine. "Just keep washing it," he tells Sophie's "mom."
Haywood's blood, too, checks out fine. No heartworm. No tickborne disease. By now Peaches has calmed down and has stopped meowing. Ready for anesthesia, she's brought out of the cage. It turns out her teeth need more than a cleaning. Three of them are in such bad shape they practically fall apart as the drill is applied and need to be pulled. After the procedure, before she comes to, Dr. Vinny trims her nails so she doesn't rip out her sutures, and he types notes into his laptop.
The ability to perform a surgical procedure in a mobile veterinary office at someone's curbside seems pretty amazing, but Dr. Vinny is nonplussed. He has been at this for the better part of a decade. "I was the first one to do this in Southeastern Massachusetts and Rhode Island," he says. "When I started there were only five in the entire region — two in Connecticut, one in New Hampshire, one in Western Massachusetts, and me. It has probably at least doubled in the nine years I've been doing this."
His van is equipped not only for x-rays, blood work, and a full surgical suite for routine surgical procedures but also ultrasound. "There's very little we can't do on board," he says, although there's no MRI or endoscopy. "And if the animal needs to stay overnight, we can't do that," he adds. It's also nearly impossible for a mobile veterinary van to cover emergencies. "If somebody calls me, I can't get out there fast enough," he comments. "This is for routine appointments," things that can be planned. Even euthanasia can be planned most of the time, but thatDr. Vinny tends to do right inside the dog's home rather than in the van. In some cases, the family may request it in the backyard or some other favorite spot of the pet's.
House call veterinary care is not a new concept, but coming to the pet's home with more than a little black bag and a stethoscope is a burgeoning trend. It hasn't gained much steam in the Northeast yet but has become more popular in the Midwest and Florida, Dr. Vinny says.
By now it's almost 11:30. Each tooth extraction from Peaches took some doing, and then of course there was the time it took her to come back to herself once she woke. It's time to move on, and we follow behind in the car as Dr. Vinny and Helen take the lead in the van's two-person cab up front.
Brady and Papi
The next stop, a good 20 minutes away, is at the Cumberland, Rhode Island, home of golden Lab Brady (named for New England Patriots quarterback Tom Brady) and his littermate, a black Lab named Papi (for Boston Red Sox designated hitter David Ortiz, known as Big Papi.). Both need re-checks of their thyroid glands. Each tested positive for hypothyroidism about a month earlier, and Dr. Vinny needs to see how they're doing on their new meds to manage the condition. Brady has already lost 2 pounds, while poor Papi, a nervous panter, has lost a little less.
Why is Papi so anxious? He was in the car with his owner, Mona Anderson, when they were rammed by a tractor trailer on the Massachusetts Turnpike. Papi and Ms. Anderson were fine, but since the trauma, he refuses to go into her vehicle. In fact, he will not go up steps at all, even in the house, because it reminds him of climbing into the car. The van has a couple of steps, too, but at least it doesn't go anywhere while Papi is in it, which helps calm him. "This is why we go to Dr. Vinny," Ms. Anderson says. Papi simply will not abide a car ride to a veterinarian's office. "This is a godsend," she notes.
"The first visit, I had to pick him up and carry him in," Dr. Vinny recalls. Now he'll walk into the van on his own — with some coaxing.
Unfortunately, after drawing some blood from Papi and upon looking over the results of the bloodwork from the blood analyzer, Dr. Vinny realizes the dog may not have hypothyroidism but Cushing's disease. The doctor has to run the blood through yet another machine that he keeps at home for more definitive results. In the meantime, he tells Ms. Anderson to continue the thyroid medication until he has a better answer. "The range from the results here are equivocal," he explains.
On to Massachusetts
The next step is across the state line in the town of Attleboro, Massachusetts. Ten-and-a-half-year-old yellow Lab Riley needs a wellness exam, and his owner likes the mobile vet because, he says, "he sheds so much that it gets all over the car. It had gotten to the point that I would rent a vehicle whenever we had to go to the vet."
The man worries about a small bump on Riley's head, but Dr. Vinny, after taking a look, assures him that it's just a wart, not to worry about it.
Riley does have a rather sizable lick granuloma on one of his front legs, though—an irritated, bloody-looking lesion that always gets worse during the warm weather because of his allergies. They lead to hot spots, which Riley keeps licking in an effort to relieve the chronic itch. Dr. Vinny prescribes antibiotics to heal a secondary infection that has developed around the area and also performs acupuncture at the spot to relieve the inflammation there. "Hold still, Pal," Dr. Vinny tells Riley after about five or 10 minutes, when the dog is losing patience about having the acupuncture needles in his leg. "We're almost done."
Riley is let out of the van to roam around his backyard while his owner and Dr. Vinny go over some details about the visit. The man buys three more months of heartworm medicine, along with three months of flea and tick medicine.
The old dog is doing great. His heartbeat has checked out fine, his gums look good, and his blood work comes back with no problems.
By now it's almost 2:30 in the afternoon and time to cross back over the state line to Warwick, Rhode Island. There's a dog that needs to be seen because he has a megaesophagus — his esophagus is dilated and not functioning properly and Dr. Vinny has to find out why — and after that, an annual exam for another couple of dogs, one of which has skin problems. That will be followed by a visit to a household where one of three dogs killed a muskrat and all three will be administered a rabies booster as a precaution, since they are all due for their rabies shots in just a few months. It'll be 6:30 or 7: 00 p.m. before the van pulls back into Dr. Vinny's own driveway. But the night won't be over. He still needs to further analyze Papi's blood to see whether it's hypothyroidism or Cushing's disease — or both — that needs to be treated.